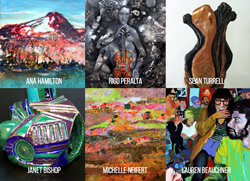 "A predominant theme I explore in my work is the relentless push and pull between human and machine," said Peralta. "My work is about the persistence of nature and the beauty, strengths, and spiritual essence of human existence."
Bethlehem, Pa. (PRWEB) May 15, 2015
Bethlehem House Gallery, a contemporary art gallery providing innovative art in a variety of contemporary styles, will host its Spring Show from Friday, May 22 through Saturday, July 18. The show will begin with an opening reception on Friday, May 22 from 6-9 p.m. taking place at the gallery. The event will include live music and refreshments and provide visitors a chance to meet the artists and learn about the inspiration behind their work.
Bethlehem House Gallery will take on a new look to welcome Spring, challenging the traditional white walls used in a gallery, displaying art in a comfortable homelike setting. The Spring exhibit will feature the artwork of established artist Rigo Peralta, the first Dominican artist to receive a Presidential invitation to the White House. His work was most recently featured at the ArtExpo in New York.
"A predominant theme I explore in my work is the relentless push and pull between human and machine," said Peralta. "My work is about the persistence of nature and the beauty, strengths, and spiritual essence of human existence."
The Gallery is committed to featuring the work of local and emerging talent, combining different styles to create a magazine-worthy interior design. In addition to Peralta, the Spring show will feature the work of Ana Hamilton, Sean Turrell, Michelle Neifert, Lauren Beauchner, Janet Bishop, Evelyn Deutsch, and Valerie Young. The exhibit will also include furniture by Mark Southard and Chelsea Southard that shapes Bethlehem Steel foundry artifacts into fine furniture, and "time machines" by Doug Kozo.
"Each show we provide is designed to create a new experience for visitors," said Ward Van Haute, director of Bethlehem House Gallery. "Reflective of the season, the Spring exhibit will present a fresh look as we revitalize our space with art and atmosphere new to the Gallery."
To learn more about the Spring exhibit and the unique concept of Bethlehem House Gallery, visit http://www.BethlehemHouseGallery.com. RSVP to the Opening Reception at https://www.facebook.com/events/756339091130763/. The Closing Reception will take place on Friday, July 17 from 6-9 pm.
About Bethlehem House Gallery
Located at 459 Main Street in Historic Bethlehem, Pennsylvania, Bethlehem House Gallery specializes in both emerging and established regional artists. The gallery provides original, innovative art in a variety of contemporary styles for a range of household budgets. The changing shows demonstrate the practical use of contemporary artwork in modern interior design by exhibiting works in a furnished environment. For more information, visit http://www.bethlehemhousegallery.com/.
###