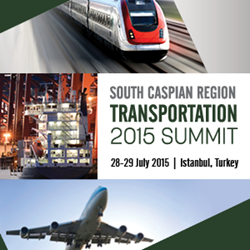 It's an IRN Summit!
London (PRWEB UK) 18 May 2015
Recently, a state representative declared that Iran will need to acquire 500 airliners over the next 10 years to renew its aging fleet. At the moment, the fleet consists of only 140 functioning aircraft, which is lower than average international norms. The end of sanctions will ease new business relationships with world powers and pave the way toward solving this issue.
Taking place a few months after an agreement has been reached to lift most sanctions against Iran, this senior level Summit means to establish grounds for companies that are looking to do business with the country, facilitating crucial discussions between businesses and authorities.
Global events' organizer, IRN, announced the inaugural South Caspian Region Transportation 2015 Summit, to take place in Istanbul, Turkey, on 28-29th July. This will be the first forum dedicated to the transportation infrastructure industry of the South Caspian region gathering together key Government Officials; current and potential investors, as well as the main operators and technology service providers with the aim to share insights and forge business relations.
Highlights of the two-day Summit agenda include:

Keynote address and announcements from the Ministry of Transportation
Urban development in Iranian transportation - Tehran
New railway projects; cooperation with Russia, India, Azerbaijan and Turkmenistan to modernise and expand the railway system
Case Study: The much anticipated Silk Road Railway and its impact on Iran and the world's transportation
Modernisation of Iran's airport infrastructure
Shipping routes to Asia; what are the main sea routes that connect Iran with the Asian markets?
Iran's ports as the main route for oil and gas transportation
Iran's road system and technology - Traffic Engineering
150 senior level delegates are expected to attend the South Caspian Transportation Summit to hear a number of regionally focused case studies and presentations, Q&A and networking sessions including a private gala dinner.
More information can be found on the website http://www.caspiansummit.com
The official Twitter hashtag to join the discussion is #SCTransp.