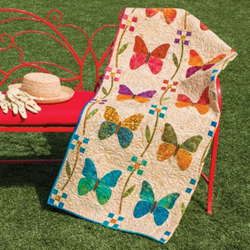 It's always fun rolling out new dies to our customers. We love the anticipation and know they'll love these fantastic new die designs.
Omaha, NE (PRWEB) May 18, 2015
To the excitement of many quilters across the country, AccuQuilt is rolling out their Spring 2015 GO! Die Release today. The 10 new fabric-cutting dies include both classic and appliqué shapes, giving quilters an even greater assortment of GO! dies to choose from and more ways to express their creativity.
The appliqué collection includes many versatile dies that quilters will love having in their collection. The new appliqué shapes include the GO! Bow-2 ½", 3 ½", 4 ½", GO! Orange Peel-4 ½", GO! Fleur De Lis, GO! Flower Bunch, and GO! Owl.
For those quilters who love piecing, the release includes new BOB™ (Block on Board) dies, which allows you to cut all the shapes for the block with just one die. They include GO! LeMoyne Star-9" Finished, GO! Churn Dash-9" Finished, and GO! Drunkard's Path-4" Finished.
Included in this release are two designer dies from Edyta Sitar and Bill Kerr. Sitar's GO! Butterfly enables you to cut beautiful butterflies with ease, while Kerr's GO! Local Color is the perfect shape to add a modern twist to any quilt project.
From beginner quilters to those whose skill levels are more advanced, this new die collection gives them many options to choose from. And, for those who have a preference for traditional or modern quilting, they will be pleased with the new die choices.
"It's always fun rolling out new dies to our customers. We love the anticipation and know they'll love these fantastic new die designs," said Steve Nabity, AccuQuilt Chief Energizing Officer.
With the addition of the dies from the Spring 2015 GO! Die Release, there are now more than 200 GO! dies, giving quilters unlimited creative options. The new GO! dies are available at your local quilt stores and at accuquilt.com. Retail pricing starts from $19.99 - $69.99. Additionally, each die is also compatible with AccuQuilt's entire GO! fabric cutter line, including GO! Big.
About AccuQuilt—Better Cuts Make Better Quilts
Headquartered in Omaha, Neb., AccuQuilt offers quilters, fabric crafters and retailers a premiere line of fabric cutters, dies, quilting patterns and other quilt and fabric cutting solutions that help quilters quickly and accurately cut shapes for quilting and fabric crafts. AccuQuilt also offers quilters a wide variety of rich educational resources to enhance their quilting experiences. Cutting with AccuQuilt cutters is a natural evolution of fabric cutting methods. "First scissors…then rotary…finally…AccuQuilt" for fast, easy, accurate fabric cutting. For more information, visit accuquilt.com or call 888.258.7913.
# # #