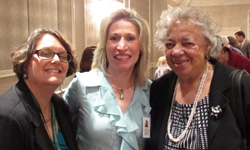 AKRON, OH (PRWEB) May 15, 2015
On May 13th, Mature Services RSVP Volunteer Program held its annual Volunteer Recognition Event at Guy's Party Center in Akron. Nearly 200 volunteers, elected officials and community supporters attended the annual event to celebrate the ongoing efforts of its volunteers.
Cathy Lance, the new Director of Mature Services RSVP Volunteer Program said, "We were delighted to have so many of our volunteers join us this year, in addition to many of our sponsors and elected officials. It was a great turn out with amazing community support. It's always such an honor to recognize our volunteers for their dedication and commitment to serving this community. They truly inspire me."
Volunteers even lent a hand to help the community at the recognition luncheon by bringing paper products like toilet paper and paper towels and various toiletries such as soap, toothpaste, deodorant and more to donate to those in need in the community. Mature Services' volunteers help the community even when off the clock; they're an amazing group of people.
Bill Soule from the mayor's office offered the invocation. Offering their support and speaking of the great success of the RSVP Volunteer Program were Leah Jones from Senator Sherrod Brown's office, Ginger Baylor from Congresswoman Martha Fudge's office and Russ Pry, Summit County Executive.
Dorothy Jackson was the keynote speaker at this year's luncheon. Jackson, a retired Deputy Mayor, is considered by many to be Akron's "goodwill ambassador" for her dedication to community activism. She gave a most inspiring speech concerning how to "Spring Into Action" (the theme of this year's luncheon) and get involved in volunteering and helping those in the community who need a helping hand.
The event also highlighted Mature Services retiring President/CEO, Linda Valentine. Linda served the agency for 27 years, the past five as President/CEO.
For information and criteria on becoming an RSVP volunteer, please call 330-253-4597 ext. 166 or visit http://www.matureservices.org.