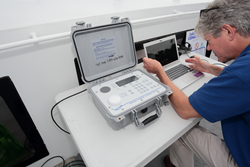 "As a scientist, I'm really excited about this new opportunity to get more people involved with our conservation efforts," Dr. Bernie Kuhajda, TNACI biologist.
Chattanooga, TN (PRWEB) May 15, 2015
The prehistoric-looking Lake Sturgeon is a pretty amazing fish. They can become river giants - growing to lengths of more than nine feet and weighing up to 275 pounds. Lake Sturgeon are also long-lived, with some known to reach over 100 years of age.
Once abundant in the Tennessee River, Lake Sturgeon were extirpated, or disappeared from this part of its historic range, by 1961. This ancient species fell victim to overfishing, pollution and habitat destruction. Today Lake Sturgeon are listed as endangered in Tennessee. This species is considered vulnerable worldwide.
Fifteen years ago the Tennessee Aquarium Conservation Institute, TNACI, and its partners began the "Saving the Sturgeon" program to restore this species. The working group has released more than 150,000 Lake Sturgeon to the Tennessee River through captive rearing and reintroduction. (Another 30,000 have been reintroduced to the Cumberland River.)
Annual fish surveys and reports from anglers give researchers a few clues about these sturgeon, but until recently scientists have struggled to establish a rigorous monitoring program to measure the success of reintroduction.
Today eight Lake Sturgeon, approximately 20 inches in length, were released into the Tennessee River in downtown Chattanooga. These fish were surgically implanted with sonic tags that "broadcast" unique signals, allowing researchers to see what sturgeon do when no one is looking. "A total of 57 sonic-tagged Lake Sturgeon are now swimming between Knoxville and Chattanooga," said TNACI biologist Dr. Bernie Kuhajda. "In addition to tracking movement, some of these tags provide data about the depth and water temperature giving us a more complete picture of their lives."
A network of 29 receivers has been established from Knoxville to the Nickajack Dam downstream from Chattanooga. In addition, a sonic receiver was installed on a Serodino Barge towboat that makes weekly trips to Knoxville, detecting Lake Sturgeon between the stationary receivers.
TNACI received a grant from the Association of Zoos and Aquariums, AZA, for more than $17,000 to further expand the tracking capabilities by implanting more tags and installing a sonic tag receiver aboard the Aquarium's boat, the River Gorge Explorer.
TNACI has developed a classroom program to help demonstrate this type of research to high school students. Aquarium naturalists will also share information about tracking sturgeon during daily cruises. "As a scientist, I'm really excited about this new opportunity to get more people involved with our conservation efforts and having them help us collect crucial data as citizen scientists," said Kuhajda.
Members of the Tennessee Lake Sturgeon Working Group (TLSWG) include: the U.S. Fish and Wildlife Service, Tennessee Wildlife Resources Agency, Tennessee Valley Authority, U.S. Geological Survey, The Tennessee Aquarium, Tennessee Technological University, University of Tennessee, Conservation Fisheries Inc., the Tennessee Clean Water Network, the Wisconsin Department of Natural Resources and the World Wildlife Fund.
In addition to conservation and research projects focused on saving freshwater aquatic animals in the Southeast, the Tennessee Aquarium is joining a new AZA initiative called SAFE – Saving Animals From Extinction.
Through SAFE, the 229 AZA-accredited zoos and aquariums will convene scientists and stakeholders globally to identify the factors threatening species, develop Conservation Action Plans, collect new resources and engage the public.
As part of Endangered Species Day observances, AZA announced the focused efforts for 10 species. The SAFE initiative will grow by 10 species each year for the next 10 years. The inaugural 10 species include: African Penguin, Asian Elephants, Black Rhinoceros, Cheetah, Gorilla, Sea Turtles, Vaquita, Sharks and Rays, Western Pond Turtles and Whooping Crane.
"AZA aquarium and zoo conservationists have identified more than 100 species facing the greatest threats and where accredited zoos and aquariums have unique conservation and science knowledge to contribute," Jim Maddy, AZA President and CEO, said. "Today, we're demonstrating just how profound the loss would be if we don't take action now to protect wildlife. More importantly, we are also explaining to the public just what AZA-accredited zoos and aquariums are doing to save animals from extinction."
Tennessee Aquarium guests will learn more about endangered animals during special animal programs through the weekend. Kids can go on a photo safari for endangered species, touch Lake Sturgeon and Stingrays, and get a small prize. Adults will be asked to take a conservation pledge and will receive a packet of wildflower seeds to take action at home by providing nectar-bearing plants for pollinators and butterflies.
For more information about the Aquarium's conservation efforts and the new AZA SAFE initiative, go to: http://www.tnaqua.org/AZA-SAFE
About AZA SAFE: Saving Animals From Extinction
AZA SAFE: Saving Animals From Extinction combines the power of zoo & aquarium visitors with the resources and collective expertise of zoos and aquariums accredited by the Association of Zoos & Aquariums and partners to save animals from extinction. Together we are working on saving the most vulnerable wildlife species from extinction and protecting them for future generations. Learn more about AZA SAFE online.
The Tennessee Aquarium inspires wonder, appreciation and protection of water and all life that it sustains. Admission is $29.95 per adult and $18.95 per child, ages 3-12. Each ticket purchased helps support Aquarium conservation programs. The IMAX® 3D Theater is next door to the Aquarium. Ticket prices are $9.95 per adult and $8.50 per child. Aquarium/IMAX combo tickets are $35.95 for adults and $24.95 for children. Excursions aboard the new River Gorge Explorer depart daily into "Tennessee's Grand Canyon." Cruise tickets are $32.00 per adult and $24.50 per child (3-12). Advance tickets may be purchased online at http://www.tnaqua.org or by phone at 1-800-262-0695. The Aquarium, located on the banks of the Tennessee River in Chattanooga, is a non-profit organization. Open every day except Thanksgiving and Christmas, the Aquarium and IMAX are accessible to people with disabilities.
ONLINE press kits & downloadable images: http://www.tnaqua.org/News/Newsroom.aspx