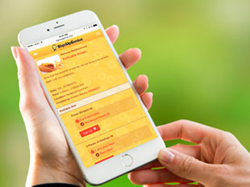 taking a mobile-first approach to the future of the site...
CHARLOTTE, N.C. (PRWEB) May 19, 2015
The leading online sign up provider, SignUpGenius, today released an upgraded mobile version of its sign up tool in response to a steady increase in mobile users. Improving the user experience in two key areas – design look and functionality – drove the upgrade process.
"The trend toward greater utilization of mobile devices is one we want to stay in sync with as we develop our sign up service," says Dan Rutledge, SignUpGenius CEO. "We decided to take a 'mobile first' approach to the future of our site, so our genius users' experience on a smartphone is even better than that on a desktop."
By enhancing the user interface, developers have streamlined the mobile process for signing up, adding dates to a calendar, and making payments on a sign up.
In a nod toward its expanding global presence, SignUpGenius has included the ability to select time zones and choose international date formats on sign ups.
SignUpGenius Mobile enhancements include:

Improved user interface for easier navigation
Themed sign ups to match desktop designs
Ability to sign up or pay for more than one item at a time
Ability to swap, edit and delete sign up tasks
Multi-date ICS files to add all sign up responsibilities to calendar at once
Sign up time zone integration and an international date format option
Sign up stats report for creators/subadmins
Beyond these improvements, mobile developers created a new backend technology infrastructure. This will allow the company to accelerate mobile development going forward and ensure a consistent, top-quality organizational tool on any type of device.
"With rapidly changing mobile technology, it can be a challenge to simplify complex scenarios, so the technology is both fun and easy to use," says Jad Talbert, VP of Development. "We believe the functionality and overall simplicity of this new SignUpGenius Mobile platform will be highlights for our users."
SignUpGenius Mobile is free of charge and available instantly when accessing SignUpGenius from any mobile device. With an all-new interface, new features, and a next-generation technology infrastructure, SignUpGenius continues to advance the online group sign up to make it even easier to organize volunteers and events.
About SignUpGenius
SignUpGenius simplifies the process of coordinating events and people by providing online sign ups for non-profits, schools, sports, churches, families, colleges, businesses, and organizations. By enabling 7 million unique visitors per month to sign up for tasks online, SignUpGenius has done away with the need for paper sign ups, "reply all" emails, and phone trees.
SignUpGenius on Facebook: http://www.facebook.com/SignUpGenius
SignUpGenius on Twitter: http://www.twitter.com/SignUpGenius
Contact SignUpGenius: press(at)signupgenius(dot)com