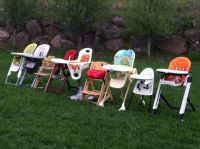 A baby must-have in most households, choosing the right high chair is very important
Cheyenne, Wyoming (PRWEB) June 17, 2015
Baby product review website BabyGearLab.com has announced the results of their 2015 best full-size high chair review. After a period of thorough, hands-on testing, nine full-size high chairs were rated side-by-side on the following criteria: quality, ease of use, ease of set-up, footprint and portability and ease of cleaning. The review, led by site founder and Pediatrician, Dr. Juliet Spurrier, was conducted over a three month period, and in the end, three products were given awards. Read the complete review write-up on BabyGearLab.com.
Awards went to the following:
The Peg Perego Siesta was given top honors as Editors' Choice. "The Siesta stood out for its overall ease of use and high quality standards," states Dr. Juliet Spurrier. "It has an innovative wheel-lock design that we absolutely loved."
The Best Value Award went to Graco's Blossom high chair. "Graco offers a 4-in-1 system that was the most versatile of all the chairs we tested," notes Dr. Spurrier. "This is a high quality chair at a reasonable price that should last a family years (and children) to come."
The Baby Bjorn High Chair was awarded Top Pick for Light and Compact. "In a category often flooded with big, bulky products, the sleek, simple design of the Baby Bjorn was a welcome sight," says Dr. Spurrier. "The set-up time couldn't be beat and cleaning was a breeze compared to some of the others we tested."
As part of their review, BabyGearLab has also included a buying advice guide entitled "How To Choose The Best Full-Size High Chair" to help parents get through the process of choosing the best product for their family. Designed to spark questions concerning issues they might not have otherwise been aware of, the article will be a great value to many parents, especially those entering the world of baby gear for the first time.
BabyGearLab's in-depth testing process looks at products critically, testing each head-to-head with competitors. Viewing the products in real world settings allows reviewers to see exactly what works and what doesn't throughout each category. The high chairs were used and abused by a messy baby, moved around the kitchen, in and out of storage, wiped and washed and more.
About BabyGearLab.com
Founded in 2012 by board-certified pediatrician Dr. Juliet Spurrier, the site aims to be one of the best places to find baby product reviews world-wide. Dr. Spurrier's passion to help other new parents was driven by her frustrating experience of researching baby gear during her own two pregnancies. The detailed reviews, which focus on quality, performance and even health and safety issues, aim to enhance the overall journey into parenthood.