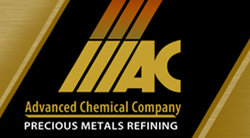 You may be able to leave with a 10 ounce pure silver bar but you'll have to stop by the booth to enter to win it
Warwick, RI (PRWEB) May 19, 2015
The Advanced Chemical team is proud to announce they will be exhibiting June 8-10 at the NASF SUR/FIN® conference at the Donald E. Stephens Convention Center in Rosemont, IL. Conference attendees interested in gold and silver plating, electronics, technology, manufacturing, and more can meet with Advanced Chemical representatives at booth #1101.
"We'd like to tell you about our multiple refining processes and how those processes can impact your bottom line," says John Antonacci, chief marketing officer of Advanced Chemical. "Let us help you with our refinery, which expertly handles a majority of hazardous and non-hazardous precious-metal-bearing material. And while you're there you may be able to leave with a 10 ounce pure silver bar but you'll have to stop by the booth to enter to win it."
For those who cannot attend the conference but would like to learn more about Advanced Chemical's services, visit http://www.advchem.com. For additional information on NASF SUR/FIN, visit http://www.nasfsurfin.com.
About NASF SUR/FIN 2015
Now in its 97th year, this popular conference and trade show provides hundreds of surface-finishing professionals with a forum to explore key business opportunities by meeting influential leaders in the field and seeing the industry's most recent innovations. With this year's theme of "The Future of Surface Technology," SUR/FIN 2015 will showcase top engineers, academics, and business thought-leaders who will demonstrate emerging technologies, explain new processes, and unveil product and service developments that can revolutionize industrial surface finishing.
About Advanced Chemical
Advanced Chemical is a family owned and operated ISO-9001:2008, ISO-14001:2004, OHSAS 18001, R2:2008 Certified & ITAR Registered full-service precious metals refinery headquartered in Warwick, Rhode Island. It refines gold, silver, platinum, palladium, and rhodium in its 25,000-square-foot, state-of-the-art and environmentally safe refinery and can handle most hazardous and non-hazardous precious-metal-bearing materials from a wide array of industries. Advanced Chemical is a leading manufacturer of proprietary precious metal electroplating chemistries and other specialty chemistries and has laboratory services that include assaying, element identification, and product support. For more information, visit http://www.advchem.com.