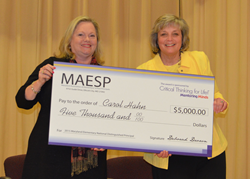 Success in the classroom is driven by the educators who shape school culture.
Ellicott City, Maryland (PRWEB) May 19, 2015
During a recent surprise visit to Bellows Spring Elementary School in Ellicott City, Maryland, Principal Carol Hahn was named the Maryland 2015 National Distinguished Principal (NDP) by the Maryland Association of Elementary School Principals (MAESP). Hahn was awarded a check for $5,000 thanks to the generous sponsorship of Mentoring Minds, a partner of MAESP. Hahn will be honored along with her fellow state winners during the 2015 NDP event in October in Washington, D.C.
The NDP Program recognizes elementary school principals across the country for their dedication to excellence in elementary school leadership. The mission of Hahn's school, Bellows Spring Elementary School, is to demonstrate leadership, build an academically stimulating environment, and—through collaboration and rigorous instruction—help all students reach their full potential and eliminate the achievement gap.
"Success in the classroom is driven by the educators who shape school culture. It is an honor to recognize Principal Hahn with this prestigious award," said Mentoring Minds Director of Educator Relations, Teresa Sherman, who presented the prize. "Her dedication to excellence and to the success of the students at Bellows Spring is an inspiration for all educators."
The National Distinguished Principals program honors outstanding elementary and middle-level administrators who ensure that America's children acquire a sound foundation for lifelong learning and achievement. Established in 1984, the program recognizes and celebrates principals who set high standards for instruction, student achievement, character and climate for the students, families, and staffs in their learning communities. The program is based on three fundamental ideas:

Children's attitudes towards learning and their perceptions of themselves as lifelong learners are established in the beginning school years.
The scope and quality of children's educational experiences are determined primarily by the school principal, who establishes, through the important work of teachers and the support of caring parents, the character of a particular school's program.
The dedication and enthusiasm of the outstanding principals who guide children's early education experiences should be acknowledged to both show appreciation for their work as well as to allow them to serve as models for others in the field.
About Mentoring Minds
Mentoring Minds, the Critical Thinking for Life Company, delivers affordable, effective instructional resources that help students develop the skills to succeed both in the classroom and in life. Experienced educators create award-winning K–12 print and digital resources that integrate best practices for supplementary instruction, learning, and assessment across a range of subject areas. Mentoring Minds is committed to empowering teachers and students, providing customized school-wide and district-wide solutions across the nation. For more information about Mentoring Minds and its educational resources, call 800-585-5258 or visit mentoringminds.com.