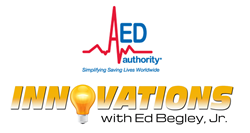 Littleton, CO (PRWEB) May 17, 2015
AED Authority® announced today that they will be featured in an upcoming episode of Innovations with Ed Begley Jr, airing 3rd QTR 2015, via Discovery Channel. Dates and show times TBA.
This episode of Innovations will explore AED Authority® and their mission to simplify saving lives. Worldwide leaders in Automated External Defibrillator (AED) sales and management programs; AED Authority® provides the opportunity to achieve positive outcomes in very real circumstances.
Viewers will learn how AED Authority® is changing the market by providing organizations every aspect of AED implementation and management. In addition, audiences will be educated on the AED Concierge® program; the leader in consultative management from device selection through training, maintenance and support.
"Owning and maintaining AED(s) in today's world can be a daunting, but necessary task. Risk Managers are faced with logistical and compliance related challenges above and beyond their every day job" said Ashton Narva, CEO and Founder of AED Authority. "Our main focus is to relieve that worry. Our programs and team ensure that the AEDs you see throughout the community are properly maintained and compliant; standing ready to save a life."
"AED Authority is simplifying saving lives worldwide," said Chris Brink, Producer for the series. "This allows organizations the ability to reduce its risk by ensuring each AED is ready to rescue at any time."
For more information, visit: http://www.aedauthority.com or contact Lisa Bell at:
Lisa(dot)bell(at)aedauthority(dot)com.
About Innovations and DMG Productions:
Innovations, hosted by award winning actor Ed Begley, Jr., is an information-based series geared toward educating the public on the latest breakthroughs in all areas of society. Featuring practical solutions and important issues facing consumers and professionals alike, Innovations focuses on cutting-edge advancements in everything from health and wellness to global business, renewable energy, and more.
DMG Productions (responsible for creating the Innovations show) includes personnel specialized in various fields from agriculture to medicine, independent films to regional news and more. Field producers work closely with experts in the field to develop stories. This powerful force enables DMG to consistently produce commercial-free, educational programming that both viewers and networks depend on.
For more information visit: http://www.InnovationsTelevision.com or contact Chris Brink at: (866) 496-4065 x 813 or via email at: Chris(at)InnovationsTelevision(dot)com.