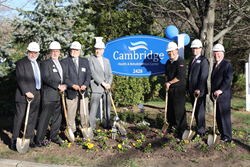 Wethersfield, CT (PRWEB) May 17, 2015
Cambridge Health and Rehabilitation Center, a provider of post-hospital rehabilitation and nursing, held a groundbreaking ceremony and reception at their 2428 Easton Turnpike location in Fairfield on April 28. A reception took place for the more than 70 attendees, including Fairfield First Selectman Michael Tetreau and State Representative Tony Hwang, of Fairfield, as well as other healthcare and community business leaders.
In announcing the major renovations and construction, Lew Abramson, administrator at Cambridge Health and Rehabilitation, noted significant enhancements to the center, including the addition of 22 private patient rooms, bringing the total to 48 private rooms in the center, which can accommodate up to 160 short-term rehabilitation patients and long-term care residents. Additionally, new lighting, resident and patient room fixtures and furniture are slated for the project.
"Cambridge will have a brand new, modern look and feel," stated Abramson. "We're very excited to increase the number of private rooms as well as increasing our therapy gymnasium to accommodate a new occupational therapy kitchen. Today we mark the beginning of the physical transformation of Cambridge Center into what we hope to be one of the premier short term rehabilitation centers in Fairfield County."
Official construction and remodeling began several weeks ago and is being divided into several phases, with the final phase expected to be completed in 2016. Carlin Construction of New London, CT is heading up the project, designed by MBH Architecture of West Hartford. Financing for this project is through First Niagara Bank, of Manchester.
Cambridge Center, as well as its nearby sister center, Ludlowe Center for Health and Rehabilitation, are managed by National HealthCare Associates of Wethersfield, CT and Lynbrook, NY. More information on their care programs, services, and career opportunities may be obtained from their website at http://www.nathealthcare.com.
About National HealthCare Associates:
National HealthCare Associates (NHCA) offers skilled nursing care services as well as extensive programs for short-term rehabilitation and post-hospital care in areas including orthopedic, cardiovascular, neurologic, and post-surgical recovery and rehabilitation. NCHA manages the care of more than 5,500 patients and residents and employs more than 7,500 professional caregivers and related staff. NHCAs signature Passport Rehabilitation program is aimed at helping patients and their families return to the best quality of life possible following a hospitalization or an acute medical episode through individualized occupational, physical and/or speech-language therapies.
Founded in 1984, National HealthCare Associates is a growing network of 40 skilled nursing and rehabilitation centers and assisted living programs located throughout the Northeast (Connecticut, Maine, Massachusetts, New Hampshire, New Jersey, New York and Vermont), each sharing the common commitment to the highest level of quality care, a focus on customer service and providing a nurturing environment for both patients and families.
For more information on this and other National Health Care Associates-affiliated facilities, including short-term rehabilitative stays, resident placement or employment opportunities, please visit http://www.NatHealthCare.com.