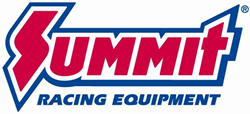 Tallmadge, OH (PRWEB) May 19, 2015
Mickey Thompson Pro Bracket Radial Tires are an excellent choice for bracket racing. The tires offer low rolling resistance, which means they're quicker and faster than a bias-ply equivalent. Even better, each tire's rollout is always the same, eliminating the need to "match" tires.
Pro Bracket Radial Tires also boast a unique X5 compound with zero growth characteristics to promote consistent ETs and race-after-race reliability. Most importantly, Mickey Thompson used its decades of tire production experience to keep the price of these tires attractive to racers on a budget.
There are five sizes of Mickey Thompson Pro Bracket Radial Tires available:
MTT-90000024495: 26 x 8.50R15
MTT-90000024496: 26 x 10.00R15
MTT-90000024497: 28 x 9.00R15
MTT-90000024498: 28 x 10.50R15
MTT-90000024499: 29.5 x 10.50R15
Summit Racing Equipment
http://www.SummitRacing.com
1-800-230-3030