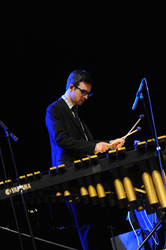 Indianapolis, IN (PRWEB) June 02, 2015
Yamaha Artist Services Indianapolis, in conjunction with Yamaha Corporation of America's Band and Orchestral Division, announced nine 2015 Yamaha Young Performing Artists (YYPA) Competition Winners. The annual YYPA Program, which underscores Yamaha's commitment to music education, recognizes exceptional emerging jazz, classical and contemporary musicians.
Winners are chosen after submitting recordings and supporting material, which are evaluated by a panel of Yamaha Performing Artists and national celebrity musicians. In addition to the nine winners, the judges chose five honorable mention recipients. The winners receive an all-expense paid trip to the YYPA Celebration Weekend, held June 20-23, 2015, which includes rehearsals, master classes, social events and workshops focused on how to establish and maintain a career in music. The weekend culminates with the YYPA Concert, to be held Monday, June 22, at 8:00 p.m. at Emens Auditorium on the campus of Ball State University. The event serves as the kick-off concert for the Music for All Summer Symposium, presented by Yamaha.
The 2015 YYPA Winners include:
Michael Alampi - Flute - Glen Ridge, New Jersey
Graeme Johnson - Clarinet - Austin, Texas
Stuart Englehart - Bassoon - Olmsted Falls, Ohio
Patrick Bartley, Jr. - Saxophone - Hollywood, Florida
Braden Waddell - Trumpet - Graham, Washington
Zachary Grass - Tuba - Waynesboro, Pennsylvania
Misaki Nakamichi - Drum Set - Osaka, Japan
Kyle Price - Cello - Worthington, Ohio
Jae Young Kim - Piano - Seoul, South Korea
2015 Honorable Mentions:
Christopher Padilla - Saxophone - Spring, Texas
Adam Marchand - Trumpet - Muncie, Indiana
Mark Trotter - Horn - Seminole, Florida
Kevin Broom - Euphonium - McLean, Virginia
Se Um - Percussion - Rochester, New York
Jeff Coffin, the featured artist at this year's YYPA celebration, is a world-class saxophonist, composer, bandleader and educator. He won three Grammy Awards as a member of Bela Fleck and The Flecktones, with whom he played for more than a decade until 2010, and is currently a member of the Dave Matthews Band. He also fronts Jeff Coffin + the Mu'tet and presents music education clinics nationwide, attesting to his passion for helping musicians find and shape their personal musical voice.
The 2015 YYPA Winners join the ranks of more than 200 former winners since the program's inception, many of whom have established successful music careers. Past winners include Ricardo Morales, principal clarinet of the Philadelphia Orchestra; Alex Han, saxophonist with Marcus Miller; Otis Murphy, professor of saxophone, Indiana University; Conrad Jones, principal trumpet with the Tucson Symphony; and Aaron Parks, jazz pianist and Blue Note recording artist.
For more information about the Yamaha Young Performing Artists Program, email jgascho@yamaha.com or visit: http://4wrd.it/YYPA_WEBSITE_2015
About Yamaha
Yamaha Corporation of America (YCA) is one of the largest subsidiaries of Yamaha Corporation, Japan and offers a full line of award-winning musical instruments, sound reinforcement and home entertainment products to the U.S. market. Products include: Yamaha acoustic, digital and hybrid pianos, portable keyboards, guitars, acoustic and electronic drums, band and orchestral instruments, marching percussion products, synthesizers, professional digital and analog audio equipment, Steinberg recording products and Nexo commercial audio products, as well as AV receivers, amplifiers, Blu-ray/CD players, iPod docking systems, home-theater-in-a-box systems, earphones, headphones, sound bars, and its exclusive line of Digital Sound Projectors. YCA markets innovative, finely crafted technology and entertainment products and musical instruments targeted to the hobbyist, education, worship, professional music, installation and consumer markets.