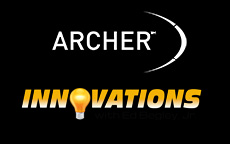 Boulder, CO (PRWEB) May 18, 2015
ArcherDX, Inc., announced today that they will be featured in an upcoming episode of Innovations with Ed Begley Jr., airing via Discovery Channel 3rd QTR 2015. Dates and show times TBA.
This segment will focus on ArcherDX's next-generation DNA sequencing assays and analysis software, which are purpose-built for detecting cancer-causing mutations and gene fusions in clinical sample types. ArcherDX has developed a line of assays that support researchers designing targeted therapies and other applications in precision medicine.
In addition, the show will educate on how Archer™ Analysis software, which uses sequencing data from either Ion Torrent™ or Illumina® sequencing platforms, automates mutation analysis without the need for programming expertise. Results are presented in an easy-to-read, high-level summary that shows all fusions, isoforms and variants detected in the sample.
"Archer's sequencing assays are having a transformative effect on molecular oncology research," said co-founder and CEO Jason Myers. "By contributing directly to advances in precision medicine, we're changing the way that cancer is understood. It's exciting to be working with Innovations to share our advances with the world at large."
"Precision medicine is going to have a profound impact on our lives in the next 5-10 years," said Michele Nehls, Producer for the series. "and ArcherDX is right at the forefront of this development. We look forward to educating our viewers on this amazing technology."
About ArcherDX, Inc:
ArcherDX was founded in 2013 with the goal of transforming molecular testing with innovative DNA sequencing applications. By combining proprietary enrichment chemistry with an easy-to-use workflow and advanced bioinformatics, ArcherDX is solving the bottlenecks associated with using high-throughput DNA sequencing in a translational setting.
ArcherDX's best-in-class FusionPlex assays have enabled scalable detection of gene translocations using next-generation sequencing. By identifying gene fusions in carcinoma, sarcoma, and hematological cancer samples, FusionPlex assays are empowering researchers to understand underlying mechanisms of disease in a rapid, cost-effective manner.
For more information, visit: http://www.archerdx.com.
About Innovations and DMG Productions:
Innovations, hosted by award winning actor Ed Begley, Jr., is an information-based series geared toward educating the public on the latest breakthroughs in all areas of society. Featuring practical solutions and important issues facing consumers and professionals alike, Innovations focuses on cutting-edge advancements in everything from health and wellness to global business, renewable energy, and more.
DMG Productions (responsible for creating the Innovations show) includes personnel specialized in various fields from agriculture to medicine, independent films to regional news and more. Field producers work closely with experts in the field to develop stories. This powerful force enables DMG to consistently produce commercial-free, educational programming that both viewers and networks depend on.
For more information visit: http://www.InnovationsTelevision.com or contact Michele Nehls at (866) 496-4065 x 822 or via email at Michele(at)InnovationsTelevision(dot)com.