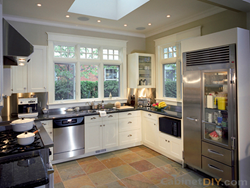 San Francisco, CA (PRWEB) May 16, 2015
When it comes to a new kitchen, many people have different opinions on what a kitchen style and color they should use, and that is why CabinetDIY has decided to offer some valuable kitchen design advice.
According to real estate agents, a white kitchen can make a home more attractive. They believe with the neutral color and the longevity a white kitchen brings more property buyers would prefer to buy a home with a white kitchen than another color. CabinetDIY agree that a white kitchen can be more attractive, they also advise that white kitchen cabinets could reduce the cost of kitchen remodel.
Modern white kitchen cabinets can make a kitchen look fresh. However, by using antique style Ivory white kitchen cabinets, it can make the kitchen look homely and elegant. There are many styles of white cabinets, but one thing they all have in common according to the RTA Cabinets experts is they are more affordable than other cabinet colors.
In the 1920s and 30s, the colors offered for kitchen cabinets were limited to white, but times have now changed and there are available in many different colors. But according to CabinetDIY, white kitchen cabinets are still one of the most sought after colors to have for a kitchen. It is not just white cabinets that are still popular, according to official reports;white appliances have outsold all other colors, showing how popular white is within a kitchen.
Unlike many other colored kitchen cabinets, a white kitchen will not go out of fashion, which means once installed; the homeowner does not have to worry about changing the color after a few years.
To find out more about the products offered by CabinetDIY, please visit http://www.cabinetdiy.com
About CabinetDIY
CabinetDIY is established in 2004 to provide professional interior design services and products throughout North America and beyond. The company's team takes each customer's need, complaint or suggestion seriously, constantly improving their services and products to meet the demands for quality, uniqueness and diversity of the today's generation.