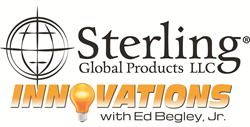 Slidell, LA (PRWEB) May 19, 2015
Sterling Global Products LLC, announced today that they will be featured in an upcoming episode of Innovations with Ed Begley Jr, airing 4th QTR 2015, via Discovery Channel. Dates and show times TBA.
In this episode, Innovations goes behind-the-scenes at Sterling Global Products LLC to explore the company's line of doctor recommended flushable wipes. Audiences will learn about the different wipes offered by the company, including Bob's Butt Wipes™, BouDe™, and Lil' Booty's Adventure Wipes.
Innovations will educate viewers on how the wipes prevent the spreading of germs, promoting good hygiene for children and adults, and are made with safe, all natural, alcoholfree hypoallergenic formula. Viewers will see how the revolutionary container easily installs in seconds on virtually any standard toilet tissue holder and is fully sealed to keep the wipes moist and ready for use.
"As our lines of flushable wipes become more widely known across the US, and even internationally, we are excited about this opportunity to educate users on the benefits of using our all-natural biodegradable wipes. As we have three varied brands of wipes, each catering to a different member of the household, we will provide information that is of interest to all members of the viewing population. In addition, we are proud of our commitment to sustainability and look forward to expanding on the varied ways our product cares for the environment. We are delighted to have this opportunity."
"With three different options, the wipes are great for the whole family," said Amanda Sweeney, Producer for the series. "They are also environmentally friendly, since you never have to buy another container, are biodegradable, disperse in water, and they save on toilet paper. This also helps consumers to save on cost."
About Sterling Global Products:
Founded in 2012, Sterling Global Products is the brainchild of Robert Delaney, III. Bob was a leader in the area's construction and development, and noticed that, on the worksite, there was a need for a flushable, convenient wipe to ensure workers' hygiene. As a result, Bob created Bob's Butt Wipes, a hypoallergenic, biodegradable, all-natural flushable wipe, available in a convenient hanging dispenser that fits all toilet paper holders, or as a resealable refill pack. Upon realizing that everyone needed hygiene solutions, Bob then developed the Boudé and Lil' Booty's Adventure Wipes brands, providing quality, environmentally-friendly flushable wipes for the whole family, to ensure the "polish after the toilet paper." Bob's dedication and drive to share this product with the world has allowed him to develop this fast-growing organization, with distribution in major retailers throughout the United States and Internationally. As Bob says, "we are cleaning the world, one wipe at a time... and we leave nothing behind."
About Innovations and DMG Productions:
Innovations, hosted by award winning actor Ed Begley, Jr., is an information-based series geared toward educating the public on the latest breakthroughs in all areas of society. Featuring practical solutions and important issues facing consumers and professionals alike, Innovations focuses on cutting-edge advancements in everything from health and wellness to global business, renewable energy, and more.
DMG Productions (responsible for creating the Innovations show) includes personnel specialized in various fields from agriculture to medicine, independent films to regional news and more. Field producers work closely with experts in the field to develop stories. This powerful force enables DMG to consistently produce commercial-free, educational programming that both viewers and networks depend on.
For more information visit: http://www.InnovationsTelevision.com or contact Amanda Sweeney at: (866) 496-4065 x 824 or: Amanda(at)InnovationsTelevision(dot)com.