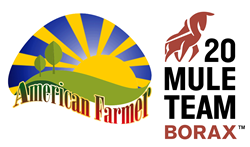 Boron, CA (PRWEB) May 20, 2015
U.S. Borax, Inc., announced today that they will be featured in an upcoming episode of American Farmer, airing later this year on RFD-TV.
Borax operates California's largest open pit mine in Boron, California - one of the richest borate deposits on the planet. While boron is present everywhere in the environment, substantial deposits of borates are relatively rare.
In this episode, American Farmer travels to Boron, California for a behind-the-scenes look at how Borax operates. Viewers will be educated on how Boron is vital to fertilization, fruit, and seed production; and how the company is able to supply about 30 percent of the world's demand for refined borates.
"Our 20 Mule Team Borax products of Granubor 2, Solubor and Fertibor are recognized worldwide for their performance, quality, technical support, research data, and supply reliability," said Paul Fink, Regional Sales Manager, U.S. Borax. "Our participation in the American Farmer series compliments U.S. Borax's commercial commitment to the Agricultural industry."
"Borax is committed to ensuring that practices and products are socially, environmentally, and economically sustainable," said Charlie Cowan, Producer for American Farmer. "As the recognized world leader in borate technology, research and development, American Farmer looks forward to educating the public on Borax."
About U.S. Borax Inc.:
Rio Tinto Minerals (U.S. Borax) is the world's leading provider of refined borates, a critical ingredient in hundreds of products including glass, fiberglass, ceramics, fertilizers, wood preservatives, detergents and many others. Borax operates mining, refining and shipping facilities on six continents. Our researchers and specialists also work to advance borate science, pioneering new products and applications that harness the many properties of this versatile resource. For more information, visit: http://www.borax.com.
About American Farmer:
American Farmer is a breakthrough program on a mission to showcase the latest advancements in agriculture and farming. From seed to harvest, livestock and more, our producers have traveled the country covering the people, places and issues impacting all areas of farm country.
American Farmer airs Tuesdays at 8:30am ET on RFD-TV. Check your local listing for show times.
For more information visit: http://www.AmericanFarmerTV.com or call Charlie Cowan at: (866) 496-4065 x 875 or via email at: Charlie(at)AmericanFarmerTV(dot)com.