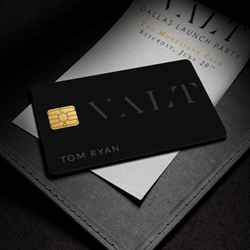 DALLAS, Texas (PRWEB) May 15, 2015
VALT, a Dallas/Ft. Worth based black card service, has started accepting public applications.
VALT provides its exclusive and limited community of Dallas/Ft. Worth members with high-end services reserved for selective card memberships. The foundation of benefits include a custom metal VALT card that is tied to the member's current credit/debit card of choice, access to private VALT events, a concierge service, priority access and reservations to restaurants, bars and other nightlife venues as well as special pricing, gifts and service at local and national luxury retailers.
The VALT card is a custom stainless steel card that acts as an extension of the member's current credit/debit card and can be used anywhere credit cards are accepted.
VALT will host special events each month, starting with an all-inclusive Dallas Launch Party the evening of Saturday, June 20th at The Montaigne Club in Uptown Dallas. These exclusive events give the VALT community of members a substantial addition to their local social calendar while tying in the premium benefits associated with rare black cards.
Other primary services include a turn-key concierge and access to premium benefits via special VALT partnerships. The concierge staff is available to members via email, phone and a private members-only website and can be utilized to accommodate a large variety of member requests including, but not limited to booking reservations at Dallas/Ft. Worth restaurants, bars and clubs.
VALT has and continues to form partnerships with local and national brands, services and venues to provide its members with special perks, benefits and access not normally available.
For more information on VALT and/or the VALT Dallas Launch Party, contact the VALT Press Staff directly:
VALT Press
press(at)valt(dot)black
http://www.valt.black