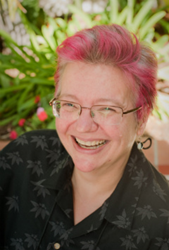 "Cat Rambo is a great storyteller." - Don Sakers, Asimov's Magazine
Redmond, WA (PRWEB) June 23, 2015
World Fantasy and Nebula-nominated F&SF writer Cat Rambo teaches the way a sci-fi writer should: using the latest technology. Rambo offers classes designed to impart and fine-tune writing skills, such as "Literary Techniques for Speculative Fiction Writers" and her "Writing Fantasy and Science Fiction Stories" workshop. Now she's added novel writing to the roster with a new offering, "Writing Your Way Into Your Novel."
Since she first started using Google Hangouts for her writing classes, Rambo has taught hundreds of students who've logged in not just from across the United States, but from Australia, Japan, Czechoslovakia, the Philippines, and other places across the globe. Students range from those just beginning to write to well-published writers looking for some new inspiration. For the complete list as well as details for registration and payment, visit her website at http://www.kittywumpus.net/blog/upcoming-online-classes.
Rambo, current Vice President of the Science Fiction and Fantasy Writers of America, is a prolific short story writer whose debut novel, Beasts of Tabat, is set in the same world as many of her stories. One reviewer pronounced Beasts of Tabat "evocative, intense, and unlike anything being written in fantasy today" and Rambo's gathered what she learned writing the book and its sequel, Hearts of Tabat, into a class she says has been frequently requested in the past, "Writing Your Way Into Your Novel".
"It would have seemed presumptuous to teach something like that without an actual published novel to point to," Rambo says. "Now I feel comfortable saying I know what I'm doing to the point where I can give students some useful information."
The book appeared in April from Wordfire Press, the burgeoning press run by New York Times bestselling author Kevin J. Anderson and his wife Rebecca Moesta. Currently it's part of the Epic Fantasy Bundle curated for StoryBundle by Anderson (https://storybundle.com/fantasy), along with works by Anderson, Paolo Baciagalupi. Tobia Buckell, Jodi Lynn Nye, and Sherwood Smith.
Rambo is also the author of Creating an Online Presence, a nonfiction work aimed at writers trying to navigate the murky waters of social media and publicity and the co-editor (with Fran Wilde) of forthcoming Ad Astra: the SFWA 50th Anniversary Cookbook.
Rambo will appear in 2015 at Gencon, Sasquan, the Baltimore Book Festival, and Orycon as well as at readings in the Seattle area. She can be reached for interviews and appearances at cat(at)catrambo(dot)com.