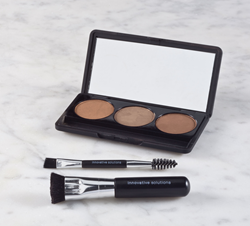 Oshkosh, WI (PRWEB) May 27, 2015
i.s. BEAUTY Fill In Powder answers the call for stunning, full brows and a touch up for thinning hair in one product. i.s. INNOVATIVE SOLUTIONS' target audience is women over forty who want effective beauty solutions; however, because the products are relevant to current beauty trends, a younger base is quickly growing. i.s. INNOVATIVE SOLUTIONS' mission is to provide superior and innovative performance-driven beauty solutions to help every woman feel good about herself and confident in the way she presents herself to the world.
i.s. BEAUTY Fill In Powder's modern formulation contains no talc or perfume, and is loaded with beneficial ingredients to encourage hair growth as well as provide essential conditioning and, of course, exceptional color coverage. The deeply pigmented base goes on smoothly, and with a palette of three shades, allows women to blend the perfect color match. The 2X mirror in the soft-touch compact helps with close-up application. Innovative formulation and chic packaging with two application brushes are the perfect combination for no hassle beauty on the go. i.s. BEAUTY Fill In Powder comes in five palettes: Blonde, Brown, Red and Salt and Pepper. The retail price point is $39.
i.s. BEAUTY Fill In Powder is available at http://www.aswechange.com.
Silver Star Brands is a direct-to-consumer, multi-channel marketer of health, wellness and beauty products, household convenience items and personalized gifts through the Catalog/Internet channel. Its products are sold under the Miles Kimball®, Walter Drake®, Easy Comforts®, As We Change®, Exposures® and Native Remedies® brands