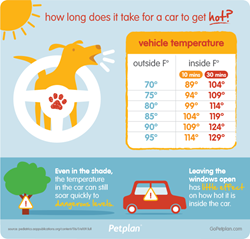 Newtown Square, PA (PRWEB) May 18, 2015
Petplan pet insurance is sending pet parents a clear message: don't leave your dog in a parked car on a warm day – not even for a minute. The campaign, called Driven to Bark, is aimed at educating pet parents and empowering bystanders to act when they see a pet in distress. While most people know not to leave a pet in a vehicle for an extended period of time, many pet owners are unaware that even a few minutes locked in a hot car can be deadly for furry friends. The goal of Driven to Bark is to present the facts and prevent needless tragedies from happening.
The Driven to Bark campaign broadcasts critical safety information, including:

Even on a cool, 70˚F day, a car's temperature can soar to 89˚F in just 10 minutes and 104˚F in 30 minutes.*
Dogs can succumb to heat stroke if their body temperature rises just a few degrees above normal.
Heat stroke can kill a dog within 15 minutes.
Once signs of heat stroke are visible, it's often too late to save a pet's life.
Even when heat stroke isn't deadly, brain and organ damage can still result from exposure to extreme heat.
Parking in the shade or leaving car windows cracked has little effect on rising temperatures.*
"Countless dogs die in hot cars every year. These deaths happen not because people don't love their pets, but because they don't realize how fast a car can become deadly, even on a mild day," says Dr. Jules Benson, Chief Veterinary Medical Officer of Petplan. "The goal of the Driven to Bark campaign is to put this information front and center so we can help people avoid this very preventable tragedy."
"It's easy for a quick five-minute errand to turn into a 20-minute excursion," continues Dr. Benson. "Our goal is to encourage pet parents to travel with their pets safely – which means leaving them home if they plan to stop somewhere that can't accommodate their dog."
Other tips from Dr. Benson for keeping pets safe in cars include:
Most dogs love tagging along for a joy ride, but take care to avoid errands where you have to leave your dog unattended in the car.
If you see a dog trapped in a hot car, record the make, model and license plate number and ask nearby businesses to make an announcement to find the dog's owner.
Keep the numbers for your local animal control and police department in your contacts and call for help if the owner can't be found.
Ask local businesses to post signs encouraging pet parents not to leave their dogs behind in the car while inside.
For more information about keeping pets safe from summer heat, including free, downloadable resources from Petplan veterinarians, visit http://www.gopetplan.com/driven-to-bark.
###
ABOUT PETPLAN
Petplan is more than a pet insurance company. We're dedicated to providing pet parents with the support, resources and tools they need to keep their pets not just surviving—but thriving—into their old age. Simply put, we aim to be the kind of company that will make our pets proud. For the third consecutive year, Petplan was listed among Forbes' annual ranking of America's Most Promising Companies – a list of 100 privately held, high-growth companies with bright futures. Petplan is the only pet insurance company to have been included on Inc. Magazine's list of 500 fastest-growing, privately held companies in America.
Petplan's fully customizable cat and dog insurance policies provide comprehensive coverage for all hereditary and chronic conditions for the life of the pet as standard. Petplan policies are underwritten by AGCS Marine Insurance Company in the U.S. and by Allianz Global Risks US Insurance Company in Canada. The Allianz Group was rated A+ by A.M. Best in 2014. For more information about Petplan pet insurance, visit http://www.gopetplan.com or call 1-866-467-3875.