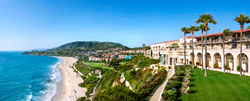 Dana Point, California (PRWEB) May 17, 2015
As the official hotel partner of Pageant of the Masters and Festival of Arts, The Ritz-Carlton, Laguna Niguel is showcasing original works from 25 Festival of Arts artists. The exhibit will be on display in the Art Exhibit Space through September 30, 2015.
Artists on display include:

Christopher Wayne Allwine, "Date Night," Pigment Ink Print
Paul Bond, "The Girl Who Circumnavigated the World in a Dream of Her Own Making," Giclee on Canvas
Greg Boratyn, "White Mountain," Photography
William Brion, "Beaches," Oil on Canvas
Sean Hunter Brown, "Tide Pool," Aluminum, limited edition print
Susan Cox, "Piccadilly Puddles," Oil
Pilar Cristi, "Tranquility," Metal Print
Gar Crosper, "Desert Sand Dunes," Photography
Cunningham/Haight Duets, "All A- Twitter," Mixed media
Michael Duggan, "Glass Building Peaks" Photography
Dennis Dunton, "Paris Carousel," Black and White Photography
Rob Gage, "Rachel on the Stool," Photography
Brian Giberson, "Pagoda," Mixed media
Michael Harnish, "Portrait of Amy," Oil on Canvas
Hannah Harris, "Virtuous Woman,"Oil and Collage on Panel
Susan Hoehn, "Admiring Monet," Oil on Canvas/Figurative
Sharon Jackman, "Ocean Platter," Platter
David Milton, "Perry's Supper Club," Watercolor
Gary Monji, "Silk Flowers Series, Leaf Top Jar #1," Sculpture
Sherry Salito Forsen, "Wabi Sabi," Glasswork
Marie Tippets, "Granny Smiths," Pastel
Wai-Sin Tong-Darbonne, "Ocean Spirit," Watercolor and Ink on Rice Paper
Belle Tuckerman, "Iris," Sculpture
Bruce Vanderwilt, "Lady in Red," Oil on Canvas on Board
Barbara White, "Walking Meditation," Photography
The Festival of Arts is California's premiere fine art show. The Festival's prestigious juried art show includes a wide variety of media such as paintings, photography, printmaking, sculpture, jewelry, handcrafted wood and furniture, ceramics, glass and more – all by 140 of Orange County's finest artists. Established in 1932, Festival of Arts promotes, produces and sponsors events and activities that encourage the appreciation, study and performance of the arts.
For a more comprehensive art experience, guests can book one of the two Pageant of the Masters overnight experiences that feature incredible seats and exclusive offerings. The Behind the Velvet Rope Experience features ocean view overnight accommodations on The Ritz-Carlton Club Level, two premium seat tickets to the Pageant, a guided docent tour of the Festival, a backstage tour of the Pageant for $1,699 per night. The Pursuit of Happiness Experience includes overnight accommodations and two premium seat tickets to the Pageant with rates starting at $775 per night. Both packages can be booked on-line at http://www.ritzcarlton.com/LagunaPageant.
# # #
About The Ritz-Carlton, Laguna Niguel
Perched atop a seaside bluff with panoramic views of the Pacific Ocean and miles of sandy beach, The Ritz-Carlton, Laguna Niguel features a reimagined personality and playful approach to California luxury and captivates guests from the moment of arrival with its awe inspiring location. Located halfway between Los Angeles and San Diego along the coast of Dana Point, guests discover a surfside retreat that awakens the senses with its unique beachfront setting and remarkable service heritage. The resort has been the recipient of many awards over the years, but is proud to boast earning AAA Five Diamond status for 30 years, the longest in California. For additional information or reservations at the resort call 800-241-3333, the hotel directly at 949-240-2000, a travel professional or visit http://www.ritzcarlton.com/LagunaFamily.
About The Ritz-Carlton Hotel Company, L.L.C.
The Ritz-Carlton Hotel Company, L.L.C., of Chevy Chase, Md., currently operates 87 hotels in the Americas, Europe, Asia, the Middle East, Africa, and the Caribbean. More than 30 hotel and residential projects are under development around the globe. The Ritz-Carlton is the only service company to have twice earned the prestigious Malcolm Baldrige National Quality Award which recognizes outstanding customer service. For more information or reservations, visit the company web site at http://www.ritzcarlton.com, and for the latest company updates, visit news.ritzcarlton.com. The Ritz-Carlton Hotel Company, L.L.C. is a wholly-owned subsidiary of Marriott International, Inc.