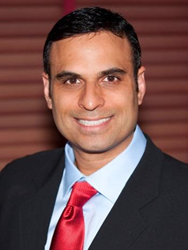 Chicago, IL (PRWEB) May 15, 2015
Dr. Amarik Singh recently invited Midwestern University dental students and nearby dental professionals to a lecture regarding the convenient and effective All-on-4™ implant-supported dentures. Dr. Singh's 17 years of clinical experience is one of the reasons he's become one of the premier periodontists in the Chicagoland area.
It is not uncommon for people to lose their teeth for one reason or another. Often tooth loss comes as a natural result of genetics and old age. It is also not uncommon for a person to lose several teeth due to unresolved issues with gum disease. As a trusted periodontist in Chicago, IL, Dr. Singh instructed lecture attendees on various matters related to implant-supported dentures. Attendees learned how to market to new patients, how to find existing local patients and how to identify patients who could benefit from receiving the procedure. Dr. Singh also instructed dental professionals and dental students on how to utilize this predictable and effective procedure to best serve the needs of patients with multiple missing teeth. Representatives from Artistic Dental Lab and Nobel Biocare were present at the lecture, which was sponsored by Nobel Biocare.
All-on-4™ implant supported dentures reduce some of the inconvenience and social embarrassment associated with traditional dentures because they are secured directly to the jaw bone with the help of four dental implants. As a result, they do not need to be removed from the mouth for cleaning and they do not need to be pasted on the gums. They also do not pose a risk of coming loose and falling out at inopportune times. Patients who receive implant-supported dentures often report that they feel and look just like real teeth. Dental and periodontal professionals who offer this quick and reliable procedure may be able to attract patients who are looking for comfortable and affordable long-term solutions for multiple missing teeth.
Dental professionals and students were able to learn much about All-on-4™ during Dr. Singh's lecture. Individuals looking to learn more about the procedure, or about the other services Dr. Singh offers, are encouraged to visit his website, http://www.pidentists.com or call (630) 686-1030 to schedule a consultation.
About the Practice
Periodontal Implant Associates is a periodontal practice offering personalized dental care for patients in Chicago, IL. After graduating from Northwestern University Dental School, Dr. Amarik Singh went on to obtain his Specialty Certificate in Periodontics and earn his Master's from Northwestern University. Dr. Singh is deeply committed to continuing education and prides himself on remaining on the cutting-edge of the newest techniques and technology in dentistry. Dr. Singh is part of an elite group of dental professionals at the forefront of the Chao Pinhole® Surgical Technique (PST®), a revolutionary new approach to repairing gum recession. To learn more about the periodontal services available at Periodontal Implant Associates, please visit http://www.pidentists.com or call 630-424-9404.