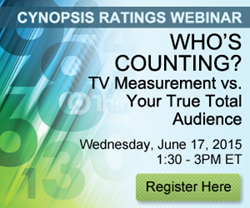 New York, NY (PRWEB) May 18, 2015
The newest Cynopsis webinar, Who's Counting? TV Measurement vs. Your True Total Audience, on Wednesday, June 17, will address how to gauge who's watching, where they're watching, and how to measure them.
Cynopsis Editor Lynn Leahey, will host the June 17 webinar along with the following experts: Brad Adgate, SVP/Director of Research for Horizon Media; David Poltrack, Chief Research Officer for CBS Corp.; and Kevin Rini, Director of Product Leadership Total Audience Measurement for Nielsen; and Kern Schireson, EVP of Data Strategy & Consumer Intelligence at Viacom.
During the interactive webinar, attendees will learn:

How to use current Nielsen tools to measure DVR & VOD, and what's ahead for online platforms, smartphones & tablets
The pros and cons of set-top box data – sample size versus streaming
The cracks in digital's claim that TV's loss in advertising is digital's gain
Why, if TV consumption is "falling," demand just keeps growing
In addition, the session will allow for real time Q&A's to ensure specific questions are answered. Register today for the Cynopsis webinar "Who's Counting? TV Measurement vs. Your True Total Audience."
All Webinar attendees will receive full access to speaker presentations for 1 year, along with a certificate of completion. Webinar tuition is based on location, not number of participants, so each registration site can have multiple participants for one low price. Questions? Contact Trish Pihonak at trish(at)cynopsis(dot)com.
About Cynopsis Media:
Cynopsis Media is a division of Access Intelligence LLC. The Cynopsis Media family of products includes Cynopsis, Cynopsis Digital and Cynopsis Sports daily e-publications, weekly Cynopsis Kids and Cynopsis Classified Advantage e-publications, Special eReports, Event/Summits and a strong database of Classifieds and more. Visit cynopsis.com.
###