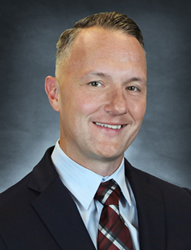 His leadership of CEI's successful DriverCare™ fleet safety programs provides familiarity with client-specific needs, while his work with our operating committee and planning teams has honed his strategic insight. -- Wayne Smolda, CEO
Trevose, PA (PRWEB) May 18, 2015
The CEI Group, Inc. (CEI), a fleet driver management company that provides accident, safety and risk management services, has announced the promotion of Brian Kinniry to senior director of strategic services.
Mr. Kinniry is a 10-veteran with CEI, having served as a strategic account services team leader and manager of risk and safety solutions. In his new role, he will be responsible for leading the company's innovation and technology integration initiatives related to driver safety programs.
"Brian's diverse experience and growth at CEI, including his specific experiences in safety management, position him for success in this critical role," said Wayne Smolda, CEI's president and chief executive officer. "His leadership of CEI's successful DriverCare™ fleet safety programs provides familiarity with client-specific needs, while his work with our operating committee and planning teams has honed his strategic insight."
Mr. Kinniry is a 1996 graduate of Rider University, with a bachelor's degree in business administration and management. Prior to joining CEI in 2005, he gained experience in financial analysis and management with Jones New York and Wells Fargo.
About CEI
CEI is a leading provider of technology-enhanced vehicle accident, driver safety and fleet risk management services. Its provider network consists of some 4,000 collision repair shops in North America, and includes nearly 1,000 truck collision repair centers. Its customers include self-insured, commercial, and institutional and government fleets, directly and through alliances with fleet leasing companies. CEI also provides vehicle direct repair program outsourcing to leading property and casualty insurance companies.
Founded in 1983, CEI has headquarters near Philadelphia, PA, and field sales offices in Trevose, PA, Tulsa, OK, Atlanta, GA, and Minneapolis, MN. In 2000, CEI launched its DriverCare™ solution, which include fleet risk management, MVR ordering and compliance, on-line and behind-the-wheel driver safety training and a safety newsletter. For more information about CEI, please visit ceinetwork.com.