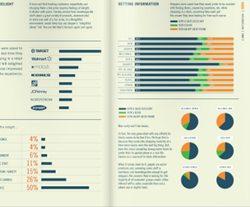 76% of shoppers are "fine with" or even "all for" retailers having the ability to track their personal, in-store shopping habits using their phone.
Eugene, OR (PRWEB) May 17, 2015
The results of a survey of over 1,200 U.S. Millennial, Generation X, and Baby Boomer consumers, conducted by retail design firm King Retail Solutions ("KRS"), emphasize the changing face of the retail industry and shoppers' evolving attitudes towards when, where, and how (e.g., on their phone, via a subscription, online for in-store pickup) they will shop - with a special focus on category blurring in the areas of groceries, fresh meals, and services ranging from haircuts to medical treatment.
Now in its second year, KRS' annual survey has expanded to include six new categories, offering valuable insights into U.S. shoppers' habits and attitudes when it comes to:

Retailer Use of In-Store Mobile Tracking
Smartphone Shopping Apps
Buying Online for In-Store Pickup
Retail Subscription Services
Causes for In-Store Delight
How Shoppers Prefer to Receive Assistance/Information
Equal parts male/female, and located in urban, suburban, and rural areas across the United Stated, shoppers were polled on their past shopping habits, their current shopping attitudes, and their decision making factors.
On the topic of category blurring (ex. purchasing a fresh prepared meal from a pharmacy or a haircut from a grocery store) the landscape is evolving, even since last year. Target and Walmart remain top preferred retailers in each category. Discounters like T.J.Maxx, HomeGoods, Marshalls, Big Lots, and Ross Stores gained relevance this year in capturing grocery sales, as did so-called "dollar stores" including Dollar Tree, Dollar General, Family Dollar, and 99 Cents Only Stores.
The study also analyzes demographic variances in habit and attitude (age, sex, family status, locale all affect decision making) and suggests that:
Category blurring will continue to thrive, providing quality is there
Smartphones will continue to grow as a shopping tool both for online and offline purchases
Retailers should be looking to enhance both mobile technology and customer service
On the survey results, KRS executive vice president, Andrew Swedenborg, commented, "Retailers today are being asked to spin a lot of plates when it comes to maintaining and, more importantly, adding to their relevance with shoppers. People are shopping everywhere they're plugged in. Different types of shoppers approach those purchases with different attitudes. They're researching quality, price, convenience. Some expect to have customized offers pushed directly. Others don't like that. It's all about creating a program that brings enough unique value to the table to differentiate your brand and then being able to scale that program to meet your shoppers where they're at, in some ways hyper-personalized to respect each shopper's preferences and boundaries."
To view and download the report compiled based upon the extensive study, visit http://www.kingrs.com/news/filter/white-paper/study-when-where-and-how-we-shop