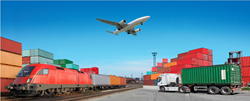 "Proper transportation of food items is often times overlooked, and transportation directly impacts issues such as spoilage, pest infestation, packing integrity and food quality. "
South Elgin, Illinois (PRWEB) May 18, 2015
McCloud Services, a leading pest management company servicing Illinois as well as Indiana, Iowa, Kansas, Kentucky, Missouri, Tennessee and Wisconsin, is bringing awareness of the importance of proper transport of processed foods and raw commodities during the summer months as pest infestations are more likely to increase during these times, which can impact food quality and consumer health.
Several factors contribute to the heightened awareness of food safety throughout the chain of custody, such as The Food Safety Modernization Act (FSMA), the creation of more stringent auditing schemes and growing media attention around food borne illnesses directly affecting consumers. Pest infestations during transport can corrupt food quality when left unchecked, can infest the food facilities to which they are delivered, and can create significant waste when the quality of food has been sacrificed.
"Proper transportation of food items is often times overlooked, and transportation directly impacts issues such as spoilage, pest infestation, packing integrity and food quality. Whether the delivery system is by rail, waterway or road, recognition of possible pitfalls and the implantation of best practices will yield a better product and reduce risk to the consumer," said Jeffry Jones, fumigation manager for McCloud Services.
There are many conditions through transport channels that can put products at risk for pest infestation. Some of those scenarios include:

Transporting products in seasonally high temperatures or in warmer climates
Understanding the delivery line on lengthy shipping times of imports at the port
Shipment routes and handling that require product to stay on a vessel, ground transport or railcar longer than necessary
Shipment of goods conducive to pest activity- flour, corn, wheat and most dried food products
Products not packaged in metal, heavy plastic containers or tightly closed glass
Unsanitary conditions or infestation present on transport vehicle
Proper prevention of pest infestations include the use of fumigants authorized by the federal government, and having a proper plan in place to predict pending problems, acting swiftly when an issue does occur, having efficient routing systems in place, managing inventories to eliminate surplus and preventing historical challenges with susceptible products by strategic fumigation principles.
To learn more information on the importance of transportation in the chain of custody, please download McCloud Services' white paper here: Transportation in the Chain of Custody. Please also learn more about McCloud Services' fumigation services here:http://mccloudservices.com/services/structural-container-fumigation/
Contact McCloud Services to learn more about their fumigation services and transportation pest management programs at 800-332-7805 or at contact(at)mccloudservices(dot)com
About McCloud Services
McCloud Services, based in South Elgin, Ill., is the leader in food protection services throughout the chain of custody – from grain elevator to grocery store. McCloud Services is known for its integrated approach to pest management, specifically designed for the food supply chain of custody. Serving the largest food-related brands in the U.S., the company has earned a reputation as the "food protection experts." McCloud Services is a regional service provider with locations in 11 states. For more information, please visit: http://www.mccloudservices.com.
Proud to serve the largest food-related brands in the U.S.
# # #