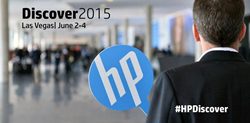 We want them to really understand the technologies and how those can help their businesses.
(PRWEB) May 19, 2015
In two weeks, Hewlett Packard will host their largest event of the year: HP Discover 2015. This annual technology forum has become one of the most anticipated events in the technology community. It will be held in Las Vegas from June 2-4.
Ten thousand-plus IT leaders from around the world will be present at Discover to hear about HP's newest advances. Over the last few years, HP has placed a huge focus on becoming a leader – not in keeping up with IT – but in creating the New Style of IT. The way both businesses and consumers use and depend on technology is changing, and HP is at the front of the pack in developing technologies that will guide businesses into the new era. HP Discover provides clients, partners, and other leaders in the IT community the opportunity to congregate once a year, collaborate together, and learn how HP is designing the New Style of IT.
Each year, members of the Zunesis team attend this conference along with a number of their clientele. One of the company's core values is making the lives of their clients better, and one way they achieve this is by taking them to Discover. "We want to educate our clients," said Zunesis' Marketing Manager, Megan Shaffer. "It's not just that we want them to buy things from us – we want them to really understand the technologies we're selling and how those can help their businesses. Taking them to HP Discover allows them to gain a greater understanding of the value Zunesis and HP offer."
As a Platinum Partner with HP, Zunesis also takes their own knowledge of HP's latest technologies and innovations seriously. Attendance at Discover allows the Zunesis team to stay ahead of what HP has coming down the line so that they can be well informed when championing the HP flag.
Zunesis will also be hosting a happy hour during Discover on Wednesday, June 3rd, at the Double Helix Wine and Whiskey Bar. The conference is, yes, about educating the technology community; but it is also about getting to know others in that community. Zunesis is providing a laid-back opportunity to do just that. Click here for more details.
About Zunesis
Zunesis is a leading IT solution provider with locations in Colorado and Nevada. Our vision centers around an intense focus on serving our customers and bringing value to their business through strategic IT solutions. In April 2015, Zunesis was named to the CRN TechElite 250 for the 6th consecutive year as a best-of-breed solution provider with deep technical expertise and premier certifications.