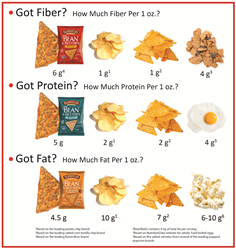 "We continue to see reactions of awe from first-time Beanfields snackers. They find it hard to believe that so much flavor can be packed into a chip made from most
Los Angeles, California (PRWEB) May 17, 2015
Consumers are rebelling against snacks made from empty calories; refined starches, sugars and fats. Rather than reaching for traditional corn or potato chips, more and more snackers find they crave Beanfields bean and rice chips even more than their old go-to snack.
Mainstream snack retailers and others in the snack industry will find Beanfields Snacks at the Sweets and Snacks Expo taking place in Chicago, Ill. at booth number 78 on May 19-21, 2015. Beanfields offers seven tempting flavors of chips to satisfy that crunchy, salty craving. And all seven flavors have one-third less fat than many mainstream snacks, 5 grams of protein, and 6 grams of fiber per ounce, as shown in the graphic.
"Beanfields Snacks are already a top-seller in natural foods stores across the United States and Canada," said Roy Glidden, Beanfields' Co-founder and Executive Vice President of Sales. "We're entering the mainstream market through retailers such as Duane Reed in New York City, Raley's in California, Sobey's in Canada, Lucky's, Fairway and many more."
"The consumer response has been tremendous," said Reed Glidden, Beanfields' Founder and CEO. "We continue to see reactions of awe from first-time Beanfields snackers. They find it hard to believe that so much flavor can be packed into a chip made from mostly beans and whole grain brown rice. Our chips really pack a punch with their benefits because they're also Non-GMO Project Verified, certified gluten-free and vegan-friendly."
Liza Braude-Glidden, Beanfields' Co-founder and Vice President of Culture and Sustainability, stated, "Every flavor of Beanfields' award-winning chips is made without corn and without the eight ingredients recognized by the FDA as the top food allergens that cause 90 percent of food allergies." She went on to say, "We've often had parents thank us for making a chip that their child with food allergies can enjoy."
Better nutrition is just the beginning of Beanfields' feel-good benefits. Beanfields Snacks is a Public Benefit Corporation and a Certified B Corporation. That means Beanfields Snacks don't just taste good, they actually do good. Who knew you could do good while munching on such a tempting treat? Beanfields Bean and Rice chips are available in seven tempting flavors: Sea Salt, Nacho, Pico de Gallo, Salt N' Pepper, Unsalted, and its two newest flavors, Ranch and Barbecue.
Beanfields Bean and Rice chips suggested retail price is $2.99-$3.99 for its 5.5-ounce and 6-ounce snacks. Beanfields 1.5-ounce snacks suggested retail price is $1.19-$1.49.