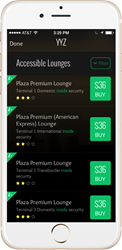 San Francisco, CA (PRWEB) May 19, 2015
LoungeBuddy, the only single resource for travelers to discover, book, and access airport lounges around the world, and Plaza Premium Lounge Management Limited, a worldwide industry leader in Premium Airport Services, today announced the expansion of the LoungeBuddy instant booking network to over 40 Plaza Premium-branded airport lounges worldwide. With this growing partnership and increased coverage, travelers will now be able to instantly book access to Plaza Premium Lounge's luxurious offerings in Canada, Southeast Asia, India, and the Middle East using the LoungeBuddy App for iPhone, Apple Watch, Android, or Amazon Kindle Fire.
"Through our partnership with Plaza Premium Lounge, all travelers can now have a premium airport experience by booking instant lounge access in a few simple taps. As the largest and one of the most highly regarded lounge providers in the world, Plaza Premium Lounge facilities create an airport experience that is luxurious, relaxing and productive," says LoungeBuddy founder and CEO, Tyler Dikman.
In addition to the currently available Plaza Premium Lounges in London Heathrow (Terminal 2 Departures and Arrivals, and their newest lounge in LHR's Terminal 4 Departures), travelers will now be able to purchase instant access to Plaza Premium Lounges in the following locations using Apple Pay or any major credit card through the LoungeBuddy App:
Canada

Edmonton (YEG)
Toronto-Pearson (YYZ)
Vancouver (YVR)
Hong Kong

India

Bangalore (BLR)
Hyderabad (HYD)
New Delhi (DEL)
Macau

Malaysia

Kota Kinabalu (BKI)
Kuala Lumpur (KUL)
Kuching (KCH)
Langkawi (LGK)
Penang (PEN)
Senai (JHB)
Oman

Singapore

United Arab Emirates

These exclusive sanctuaries offer a vast array of premium amenities to enhance the airport experience for business and leisure travelers alike. Options may include complimentary snacks, cold and hot entrees, premium alcoholic beverages, free unlimited Wi-Fi, business centers, comfortable seating, shower facilities, private resting rooms, spa treatments, and much more.
"An airport lounge changes an airport experience entirely. We are pleased to extend our partnership with LoungeBuddy so that travellers can find our lounge efficiently and instantaneously make a booking," said Ms Pauline Cheung, Group Sales and Marketing Director of Plaza Premium Lounge Management Limited.
About LoungeBuddy
LoungeBuddy™ is the only single resource for travelers to discover, book, and access airport lounges around the world. Hundreds of thousands of travelers already use LoungeBuddy to find their perfect airport oasis and improve their travel experience. LoungeBuddy features photos, reviews, ratings, and amenities for more than 2,000 airport lounges in over 600 airports worldwide. The LoungeBuddy App is free to download for iOS and Android devices. To learn more, visit http://www.loungebuddy.com.
About Plaza Premium Lounge Management Limited
Plaza Premium Lounge Management Limited is the management company and shared service provider for Plaza Premium Lounge Network worldwide. With more than 16 years of experience, a results-oriented track record and proprietary knowledge operating and managing the airport lounges, the network is directing expansion plans through multi-location operations in major international airports in the world.
Our lounge is the world's first independent lounge open to airport users irrespective of airline or class of travel. Headquartered in Hong Kong, we now operate more than 120 locations in 35 international airports – Hong Kong, Beijing, Guangzhou, Macau, Shanghai (Hongqiao, Pudong), Brisbane (Opening Q1 2016), Sydney, Phnom Penh (Opening Q3 2015), Siem Reap (Opening Q4 2015), Edmonton, Toronto, Vancouver, Winnipeg (Opening Q2 2015), Bengaluru, Hyderabad, New Delhi, Johor, Kota Kinabalu, Kuala Lumpur, Kuching, Langkawi, Penang, Malé, Muscat, Salalah (Opening Q3 2015), Manila, Dammam, Jeddah, Madinah, Riyadh, Singapore, Bangkok, Abu Dhabi and London Heathrow. As the first airport lounge network to achieve ISO 9001:2008 certification, the company is committed to providing consistently high service quality and continual improvement for valued customers. By putting into action the best ideas and practices from across the network and around the world, it is focused on innovative and quality products and services. Website: http://www.plaza-network.com Facebook: http://www.facebook.com/plazapremiumlounge
MEDIA CONTACTS:
Mei Mei Song
Manager - Corporate PR and Communications Manager at Plaza Premium Lounge Management Limited
E-mail: meimei.song(at)plaza-network(dot)com
Brent Griffith
VP of Marketing at LoungeBuddy
E-mail: brent(at)loungebuddy(dot)com