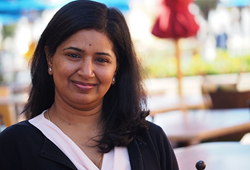 San Jose, California (PRWEB) May 18, 2015
NetSpeed Systems Inc., announced today that the company's CEO, Sundari Mitra will speak at the Imagination Summit Silicon Valley 2015 on May 21, 2015, in Santa Clara, California.
Imagination Technologies (IMG.L) will host its second annual Imagination Summit Silicon Valley based on the theme of "Securing the Future." Sponsored by Cadence, Mentor Graphics, Synopsys and TSMC, the day-long event will include keynotes, presentations, demonstrations and deep dive interactive sessions with experts from Imagination and its partners.
In a talk entitled, "Customizable Coherent NOCs for Heterogeneous SoC Architectures," Ms. Mitra will discuss the advantages of using a cache coherent on-chip interconnect to achieve optimal performance in today's complex, highly integrated SoC design.
What: Sundari Mitra, CEO at NetSpeed Systems will present "Customizable Coherent NOCs for Heterogeneous SoC Architectures," at Imagination Summit Silicon Valley 2015.
When: May 21, 2015, from 3:30 PM - 3:50 PM, Session Track 4
Who Else: Hossein Yassaie, CEO of Imagination will give the keynote address: "New Thinking for the Next Wave of Innovation." Guest Partner Keynote presentations by executives from Altair, Ikanos, Facebook and Texas Instruments. Guest Speakers from Luxoft, Netspeed Systems, Oracle, prpl Foundation, Synopsys, TSMC and Vadaro. Technology and Insight tracks on a variety of hot topics.
Where: Hyatt Regency Santa Clara at 5101 Great America Parkway, Santa Clara, Calif. Registration: http://imgtec.com/events/detail.asp?ID=37
About NetSpeed Systems, Inc.
NetSpeed Systems provides scalable, coherent, on-chip network IPs to SoC designers for a wide range of markets from mobile to high-performance computing and networking. NetSpeed's on-chip network platform delivers significant time-to-market advantages through a system-level approach, a high level of user-driven automation and state-of-the-art algorithms. NetSpeed Systems was founded in 2011 and is led by seasoned executives from the semiconductor and networking industries. The company is funded by top-tier investors from Silicon Valley. It is based in San Jose, California and has additional research and development facilities in Asia. For more information, visit http://www.netspeedsystems.com.