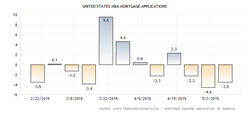 The average 30-year rate increased for the fourth consecutive week to 4%.
Chicago, IL (PRWEB) May 15, 2015
Peoples Home Equity was disappointed to see mortgage applications decline for the 3rd consecutive week in a row. However, the fall in financing demand did not curb the increase in mortgage rates.
As shown on TradingEconomics.com, mortgage applications fell -3.5% for the week of May 9th. This follows two weeks of prior declines at -4.6% and -2.3%. The 4 week average change in applications was previously at -1.72%, but is now at -2.02%. However, the 8 week average is at 0.51%, which is better than the national average of 0.49% from the time TradingEconomics began recording in 2007.
The decline in applications seems to have had zero effect on rates. The average 30-year rate increased for the fourth consecutive week to 4%. Four weeks ago, the 30-year rate was at 3.83%, then increased to 3.85%, then to 3.93%, and finally to 4% this week.
The increase in rates only confirms that the demand for housing is building and lenders are preparing for a Fed rates hike. Peoples Home Equity thinks buyers, especially first-time home buyers, should submit their applications as fast as possible to lock in an affordable rate while it's still available. If a buyer is confused about how much they can borrow, or how much a monthly mortgage payment may cost, they should consider using the calculator tools on the PeoplesHomeEquity.com website.
Typically, home sales increase continuously from April to late August, sometimes from March to September; this means it is still early in a growing demand season. Peoples Home Equity is confident that more and more individuals will apply for loans, causing them to seek out properties in a real estate environment where inventories are low; this will only lead to higher property prices. Again, buyers should be pre-approved for a home loan now if they want to compete with the growing number of pre-approved Americans bidding on the limited number of properties available for sale.
If you listing a property for sale and/or are in need of a mortgage for a new home, contact a Peoples Home Equity loan officer today at: 262-563-4026