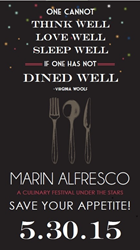 A progressive culinary adventure filled with surprises, fun and a little wackiness...
San Rafael, CA (PRWEB) May 17, 2015
The Osher Marin JCC presents an evening of progressive culinary adventure. Begin your night with soft jazz and appetizers and end with wine sipping, small bites and sweets prepared by Bay Area chefs and dancing under the stars to the Wonderbread 5. This progressive culinary adventure introduces you to over 40 local restaurants and wineries from Sonoma and Marin's finest. This will truly a night filled with surprises, fun and a little wackiness with music from the Wonderbread 5.
Live music, dancing, auction and serious fun…your night begins in a softly lit courtyard with live jazz, which will lead guests to a magical meandering path filled with delightful surprises. The destination: an outdoor wonderland of fun. Local cuisine, libations, stellar wine tastings, and a silent auction are all available while the party atmosphere is set by live music and wild fun from international rock & roll group/party machine, Wonderbread 5. A wooden dance floor set on the turf and music that covers everything from Motown to Bean-Town makes for a perfect dance party under the stars and nestled against the hills of Marin.
What: A Fun, Food, Wine, Cocktail, Music & Dancing Adventure.
What Else: Foodie Silent Auction
When: Saturday, May 30 @ 6:30
Tickets: http://www.marinjcc.org/alfresco begin at $125
Where: The Osher Marin JCC, 200 N San Pedro Rd., San Rafael
Why: Great fun while Benefiting Scholarships at the Osher Marin JCC
ABOUT WONDERBREAD 5
For over a decade, The Wonderbread 5 has been thrilling audiences and exceeds clients' expectations. An unstoppable, international rock and roll party machine, the Wonderbread 5 covers everything from Motown to Bean-Town and back again. A full service party posse based in the Bay Area, these globetrotting rockers have performed their amazing stage show throughout the US and beyond.
ABOUT THE OSHER MARIN JCC
The Osher Marin JCC is the Community Center of Marin County. Epitomizing the essence of Marin, with a range of authentic cultural experiences enjoyed by many generations, the Osher Marin JCC offers award-winning facilities, abundant physical and educational activities and world-class programming relevant to our entire community today. Since the Osher Marin JCC's founding in 1947, the center has become recognizable for its rich history of Jewish traditions and values with an unparalleled all-inclusive community spirit.
Creating a sense of "community" for every generation and all ages is at the heart of the JCC philosophy. This pursuit extends beyond the Center membership, providing access to a myriad of programs and offering scholarships to hundreds of physically and economically disadvantaged men, women and children. The Center embraces the entire community and invites all to participate.