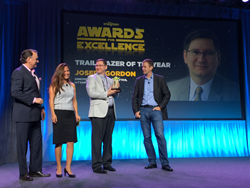 'I take a great deal of pride in finding new and innovative ways in providing the U-T's editorial, advertising and business teams with meaningful and actionable intelligence.' - Joseph Gordon
San Diego, CA (PRWEB) May 18, 2015
U-T San Diego proudly announced the organization's director of research, Joseph Gordon, was named "Trailblazer of the Year" at the inaugural Ensighten Awards for Excellence. The awards were handed out at Ensighten's annual "AGILITY 2015" user conference last month in San Francisco.
Gordon was recognized by a panel of distinguished judges for establishing industry-leading best practices for monetizing content and driving profitability. In particular, Gordon was honored for his work in aggregating data across several online and offline channels to provide actionable intelligence for editorial staff and advertisers.
"We are very proud of Joseph for this huge accomplishment," said Jeff Light, U-T San Diego's president and editor. "The U-T remains one of the most profitable newspaper companies in the country, and we have enjoyed double-digit growth in digital content over the past few years. Joseph is an important part of our success, and we feel that his Trailblazer of the Year award is richly deserved."
This is not the first time that Gordon, who joined U-T San Diego in 2011, has been recognized for his cutting edge work. In a distinguished career that has spanned more than 20 years, he has won numerous awards, including recognition from both the Newspaper Association of America and the International News Media Association for research, analytics and sales innovation.
"I take a great deal of pride in finding new and innovative ways in providing the U-T's editorial, advertising and business teams with meaningful and actionable intelligence," said Gordon. "I am grateful to Ensighten and the panel of judges for the award, and accept it on behalf of my exceptional U-T colleagues who made this achievement possible."
For all other information, including media inquiries, contact Stephanie Brown, U-T San Diego's senior director of marketing and public relations, at stephanie(dot)brown(at)utsandiego(dot)com or 619-823-9794.
About U-T San Diego
The San Diego Union-Tribune, LLC, owner of the 146-year-old U-T San Diego, is San Diego's leading media company and its most comprehensive source of news, entertainment and information in the region. Each week, products are delivered to more than 96 percent of all San Diego County households through its integrated media portfolio: the Pulitzer Prize-winning newspaper, U-T San Diego; the website, UTSanDiego.com; Sunday's Best; The Night + Day, DiscoverSD and DiscoverSD.com weekly entertainment guides; Spanish-language products Enlace and Vida Latina-San Diego; U-T TV, an Emmy award-winning on-demand video news source; and hyper-local community papers, U-T Community Press. For more information, visit http://www.utsandiego.com.