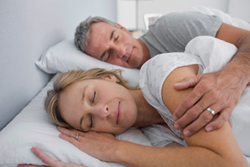 Snoring can effectively treated with an FDA-approved oral appliance fabricated by a dentist. At Ressler Dental, we screen patients for sleep apnea and fabricate snoring mouthguards for patients who snore and for sleep apnea patients intolerant to CPAP.
Boca Raton, FL (PRWEB) May 17, 2015
Ressler Dental and Boca Raton periodontist Dr. Lawrence Ressler announces the availability of a Home Sleep Testing program to screen for breathing disorders and a new FDA-approved oral appliance for treatment of snoring and sleep apnea.
Approximately 90 million Americans suffer from snoring. 42 million Americans have sleep-disordered breathing which includes a spectrum of disease states including primary snoring, upper airway resistance syndrome, obstructive sleep apnea, chronic hypoventilation syndrome, central sleep apnea, and Cheyne-Stokes respiration. It has also been estimated that 18 million Americans have obstructive sleep apnea, the interruption of breathing and loss of oxygen to the brain during sleep, and up to 80% of patients don't even know they have it and their disease goes undiagnosed.
The gold standard test for obstructive sleep apnea is a sleep lab or hospital based polysomnography (PSG). But many patients are reluctant to undergo overnight testing in a facility and choose home sleep testing (HST) as an alternative testing protocol.
Ressler Dental now offers Home Sleep Testing to screen for breathing problems and to treat snoring in susceptible adults. The sleep study can be performed in the comfort of the patient's home with the help of a self-applied device delivered to the patient's residence, with results interpreted by a physician board-certified in sleep medicine.
Treatments for sleep apnea include a CPAP machine (continuous positive air pressure), oral appliances, behavioral therapy, and surgery. Treatment for snoring without apnea may include oral appliances, behavioral therapy (sleep hygiene), or surgery.
Unfortunately, many patients with snoring and sleep apnea are unable to tolerate the CPAP machine, and are not aware or educated by health care professionals about CPAP alternative treatments, including oral appliances or mandibular repositioning devices or splints.
The dental mouthguards, oral splints, dental appliances as snoring aids are designed to slightly open the mouth during sleep and gently advance the lower jaw, opening the airway and improving respiration, thereby quieting snoring. Patients then return to the dental office for dental impressions for the dental sleep appliance, depending on whether they have been diagnosed with primary snoring, or the more serious sleep apnea, consistent with the physician's recommendations.
Severe sleep apnea, however, must be treated with a CPAP machine therapy which remains the gold standard for addressing severe sleep apnea. Patients with a known history of CPAP-intolerance who cannot sleep with the CPAP mask and hoses are also potential candidates for oral appliances therapy (OAT) or dental mandibular repositioning devices (MRD).
Dr. Ressler, a Delray Beach periodontist and dentist, has over twenty years of experience in dentistry and received his dental training from the University of Pennsylvania (D.M.D.), and his specialty training in gum treatment during his three-year residency at New York University. Ressler Dental offers same day dental implants (implants performed in one day), All-on-4 dental implants, traditional and next-generation laser gum treatment, smile makeovers, minimally-invasive fixes for receding gums, and dental snoring solutions for patients in Boca Raton, Delray Beach, Boynton Beach, Lake Worth, Wellington, Coral Springs, Parkland, Coconut Creek, and Deerfield Beach.
For more information about Laser Gum Treatment and the Chao Pinhole Surgical Technique™ and how they can help you improve your smile and your dental health, please visit http://www.lasergumtreatment.dentist and http://www.resslerdental.com.
To learn more about FDA-approved oral appliances therapy to help end snoring or treat sleep apnea, visit us at http://www.snoring-help-cpap-alternative.com or call (561) 499-7400 to schedule a consultation with Boca Raton periodontist Dr. Lawrence Ressler.
Lawrence L. Ressler, D.M.D., P.A.
Ressler Dental
Oral Therapy for Snoring and Obstructive Sleep Apnea
15300 Jog Road – Suite 201
Delray Beach, FL 33446
Tel 561.499.7400