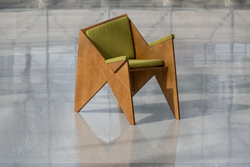 New York, New York (PRWEB) May 18, 2015
The global premiere of new works by furniture designer Maciej Markowicz at ICFF, the North American platform for international design, is captivating the eye of discerning collectors. ICFF showcases what's next in contemporary design, luxury interiors and sophisticated furniture.
The designer unveils his latest pieces – including the Wiczny Armchair (2015) inspired by Felix Augenfeld's 1930 chair made for Sigmund Freud. The handcrafted high style piece is all tilting verticals and features beautiful grained oak traversed by graceful linear decorative saw cuts suggesting the natural geometry of wood. Made with the lounging reader in mind, the temptation to try out this chair is irresistible!
Per the artist, "Sigmund Freud was a man with an extraordinary imagination. Even today over one hundred years after the first publications of his dream analysis and theories, we still find ourselves fascinated by the man and the myth. The great doctor was, apparently in the habit of sitting in an awkward position atop a chair while reading. In 1930, Freud's daughter Mathilde commissioned the architect Felix Augenfeld to design a customized chair to accommodate this bizarre habit." Likewise, Markowicz even as a child found himself sitting in similar positions, and was taken aback when he saw the strange chair in person in the Freud Museum, Vienna. It occurred to him that perhaps this "improper" habit of lounging was a more common practice than he thought, and so… the Wiczny Freud armchair was invented. Markowicz's wooden reading chair can be made to lean to either the right or left, depending on the sitter's habits. The left armchair has an armrest for the left hand, and a knee rest for the right leg, and it sets the whole body towards the left side (vice versa for the right version.)
Other featured works by this trendsetter include the gravity defying Leaning Piano (2014). A working 88 key digital piano, sculpture, and shelving unit, this work is all about curvilinear form and refined craftsmanship. The aluminum shell of the piano is finished by hand, marked by the artist's gesture and painterly touch. This is a work that will astound!
IFCC also hosts the worldwide début of Markowicz's Prismat Table (2015) in which seamless design meets a sense of the kinetic and self-containment. Hand constructed from solid oak, the work features a highly finished stainless steel interior and a reflective glass top. Markowicz's prismatic triangular forms create a sense of endless mirroring, perspective, and infinite dimension. For those who love artisan furniture design, this is a must have item.
Already sought out by international collectors, New York based Markowicz is the owner and director of the bespoke design firm Wiczny, an artisan studio specializing in custom interior and furniture. All work is handmade by the artist and his team of extraordinary craftsmen, using superior quality materials. Wood is sourced from the finest natural resources and the studio has expanded its Brooklyn workshops to London and Nowy Sacz, Poland, drawing on worldwide expertise and talent. Markowicz represents Polish Design in participation with the Consulate General of Poland at ICFF.
Don't miss out on the opportunity to experience the beauty of this artist's imagination. Be sure to visit Consulate General of Poland's Booth 1061 at ICFF, the Jacob K. Javits Center May 16-19, 2015. All works are available by commission and special edition at http://www.wiczny.com.