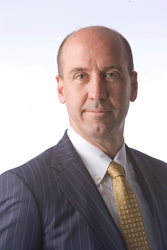 In the future, when it comes to agriculture and crop science, less will be more.
(PRWEB) May 19, 2015
In the future, when it comes to agriculture and crop science, less will be more. "It has to be," says futurist Jack Uldrich. "With far more people to feed and far less space to grow crops in, and in some places far worse conditions to grow the crops in, innovation is going to be essential to the whole industry moving ahead."
On May 19th, Uldrich will be addressing a leading European agri-business. He will deliver his newest keynote: "Innovating into the World of Tomorrow." In the address, he will specifically target how the ag industry can address future challenges by embracing cutting edge technology, implementing the latest global trends and exploring innovative ways to run their businesses. A sample of some of Uldrich's ideas on the future of agriculture can be found in this chapter from his latest book, "Foresight 2020." (A preview of his thoughts on the future of agriculture can be viewed here.)
Uldrich says, "Agriculture is changing at an astounding pace and it's an exciting area to research and speak on."
As regular speaker for ag based audiences like the Minnesota Dairy Council, Land O'Lakes, Case IH, the Agricultural Adaptation Council of Ontario, AgGateway, the California Ag Summit, the Canola Council of Canada's Annual Meeting and the Indiana Farm Bureau, Uldrich firmly has his finger on the pulse of these rapid shifts affecting the world of agriculture.
He says Big Data, prescriptive planting, precision agriculture, GMOs and robotics are just a few of the game-changing trends in agriculture today. "As these technologies continue to getter better and more affordable, expect the technology to continue to move from the large corporate farms to even the smallest of family farms and, in the process, it will transform agriculture as we know it."
Uldrich is the founder and "Chief Unlearning Officer" of The School of Unlearning — an international consultancy designed to assist organizations succeed tomorrow by unlearning today. He has served as an advisor to Fortune 1000 companies and has spoken to hundreds of businesses and organizations including ABB, Emerson, BCBS and Verizon Wireless.
Parties interested in learning more about Uldrich at this event, or his writing or speaking availability are encouraged to go to his website.