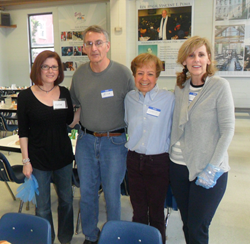 Nora has become a consistent gentle, loving and friendly face in our Community Kitchen each Friday afternoon
Paterson, New Jersey (PRWEB) May 18, 2015
The New Jersey State Governor's Jefferson Awards honors people who perform outstanding community service. Award recipients are ordinary people who do extraordinary things without expectation of recognition or reward. For thirteen years Nora Renzulli has been a dedicated volunteer at Eva's Village, supporting their mission. Eva's Village depends on volunteers to help serve the more than 300-400 guests who come each day for a hot meal in their Community Kitchen. "Nora has become a consistent gentle, loving and friendly face in our Community Kitchen each Friday afternoon," stated Marie Reger, executive director at Eva's Village. "She knows the guests and they know her. In addition to volunteering every Friday, Nora and her entire family have made a family tradition of serving in our Community Kitchen every Christmas".
Nora is being recognized in the BD Paterson NJ Patriot category. This award is given to an individual or individuals whose public service and/or volunteerism advance the standard and quality of life in the city of Paterson. Nora has made a difference at Eva's Village in many ways throughout the past thirteen years that she has dedicated to supporting Eva's. What started as simple visits to the Community Kitchen grew into so much more for Nora, her family and for what has become her second family at Eva's Village. "I grew up in a large family and always felt the greatest gift my parents gave me was my faith, which is one reason I have always felt the need to serve others," stated Nora. "I also wanted my children to see that not everyone was as fortunate as them and to continue a cycle of giving."
If you would be interested in volunteering at Eva's Village please reach out to Elizabeth Matthews, Eva's Volunteer Coordinator, at Elizabeth.Matthews@evasvillage.org or call 973.523.6220, ext. 248.
About the New Jersey Governor's Jefferson Awards:
The New Jersey Governor's Jefferson Awards salute the noble works of volunteers dedicated to serving others in local, state or international communities. The recognition program is administered by The Community Foundation of New Jersey, the Governor's Council on Volunteerism and NJ Advance Media with financial support from PNC Bank, PSEG, Verizon, BD and State Farm. Through their efforts, a variety of service learning programming is also brought to New Jersey's schools and classrooms, fostering citizenship skills and a culture of service in the Garden State. The volunteers will be recognized at the New Jersey State Governor's Jefferson Awards Gala on June 8th at the Newark Museum.
About the BD Paterson NJ Patriot Award:
The BD Paterson NJ Patriot award is sponsored by BD - Becton, Dickinson and Company, a New Jersey based medical technology company that serves healthcare institutions, life science researchers, clinical laboratories, industry and the general public. BD is dedicated to "helping all people live healthy lives."
Chairman, CEO and President of BD, Vincent A. Forlenza states "BD celebrates those whose contributions have a sustainable impact on the health of our communities." While the BD Paterson, NJ Patriot award is not specific to volunteerism in the healthcare field, it supports and advances BD's goal to shine a light on the good works of citizenry of New Jersey.
About Eva's Village:
Eva's Village (http://www.evasvillage.org), originally a New Jersey soup kitchen, was founded in 1982 by Msgr. Vincent E. Puma in response to the increasing incidence of homelessness in his Paterson, NJ parish. But Msgr. Puma soon realized that a soup kitchen was not enough. With the generous support of thousands of donors and private and government grants, Eva's has grown to be the most respected anti-poverty program in New Jersey. Their mission is to feed the hungry, shelter the homeless, treat the addicted and provide medical and dental care to the poor with respect for the human dignity of each individual.