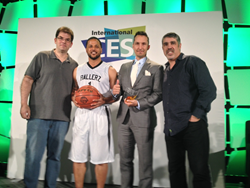 "We're pleased to offer Ballerz World to players in search of various levels of competition on the court," said Cox, who serves as co-founder of The New Breed Group.
Los Angles, CA (PRWEB) May 18, 2015
The New Breed Group, LLC, a full-service, minority-owned technology firm, headquartered in Los Angeles, today announces the launch of Ballerz World, an innovative free mobile app, currently available on Apple devices, is a global basketball community that helps players find local pick-up games and player rankings in their area.
Developed by two active duty naval officers, Kyle E. Cox and Nicholas S. Damuth, Ballerz World was designed to help find nearby courts and players in and around the base. The veteran officers have found that pick-up games helped reduce job stress and boost morale for service members while stationed across the country and overseas.
The two combined both their professional and military experience in satellite communications, coding and sports marketing to develop an app that uses GPS positioning and player ranking to identify courts and players of various skill levels. In addition to self-ranking, the app has full integration with Facebook and Twitter and allows players to evaluate other players within their cities, schedule practices and more.
"We're pleased to offer Ballerz World to players in search of various levels of competition on the court," said Cox, who serves as co-founder of The New Breed Group. "We understand that every player is different - our app empowers them to have control over the gameplay they desire from any location in the world. Today, we're excited to make Ballerz World available to the global basketball community."
According to the International Basketball Federation (FIBA), 30 million Americans play basketball daily, while 500 million play worldwide. Due to its influence on global trends, basketball transcends cultural and socioeconomic differences and has helped Ballerz World attract premier basketball partners such as, the Venice Basketball League, Air West and Sole Brothers. Through these partnerships, Ballerz World users have the opportunity to connect with serious competitors, both professional and semi-professional basketball players from around the world.
"Ballerz World is what the hoop community has been waiting for," said Nick Ansom, founder of the Venice Basketball League, the famous outdoor, street-ball league at Venice Beach, Calif. "Los Angeles is such a big city with so many courts. This app will enable us to stay connected to fellow hoopers around the city and discover new runs. I am excited to see it become a staple in the basketball world."
Released in limited beta last year, Ballerz World received several high profile industry accolades including, the 2014 CES Mobile App Showdown People's Choice Award; 2014 BMA Award for Best GPS-Enabled App; the 2014 Social, Innovation and Lifestyle Silver Award presented by the W³ Awards; 2014 Appy Award Runner-Up for Best Sports App; and a Webby Award Official Honoree recognition for Best Sports App.
This year, the app was named the 2015 Mobile Excellence Award Runner-Up for Best Sports App and received the 2015 Communicator Silver Award for Best Sports App.
"I loved seeing these guys win our Mobile Apps Showdown at CES on so many levels," said Robin Raskin, Founder of Living in Digital Times. "Kyle and his team took the enormous burden of serving our country in the military and parlayed it into a social media app for finding pickup sports games anywhere in the world. Now, that's ingenuity."
Currently, Ballerz World is available for free on Apple devices. The Andriod version of the app will be released late summer.
In addition, The New Breed Group will host a star-studded launch event on May 24 in Beverly Hills. For event information, please contact: Kyle Cox, kecox(at)newbreedworldwide(dot)com.
To request event media credentials, please contact: Leslie Gay, Leslie Gay and Associates, lesliegaypr(at)gmail(dot)com
Join the social conversation using hastags:
#ballerz #ballerzworld #basketballwillneverbethesame
About The New Breed Group, LLC
The New Breed Group, LLC is a full service, minority-owned technology firm headquartered in Los Angeles. Co-founded by military veterans Kyle E. Cox and Nicholas S. Damuth, the company specializes in mobile application and software development, design, implementation and strategic solutions. For more information on Ballerz World please visit: http://www.ballerzworld.com