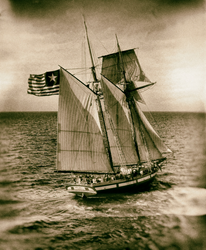 Samuel May Williams became indispensable to Stephen F. Austin, first as his assistant, then later as Austin's partner. Together, they created what has been called the 'most successful colonization movement in American history.'
Dallas, Texas (PRWEB) June 08, 2015
"Although the History Channel's current miniseries, 'Texas Rising' is historical, it departs from the truth to a degree many reviewers find surprising. To the series' credit, the production values, particularly the battle and camp scenes depicting the Mexican and Texian armies are sensational. But the series is flawed by such errors as placing mountains and deserts between San Antonio and Houston, by getting the date of the Battle of the Alamo wrong, and most egregiously, depicting a love affair between General Sam Houston and Emily Morgan, 'The Yellow Rose of Texas' " according to author Gordon Blocker, a native of Galveston, Texas and a recently commissioned Admiral in The Texas Navy by Governor Greg Abbott.
For those who want an accurate portrayal of the events and characters of this period in Texas history that is just as fascinating as fiction, yet holds closely to what really happened, there is a new book entitled: Forsaken Patriot. It is the story of Samuel May Williams, a forgotten hero of the Texas Revolution, a man without whom the battle of San Jacinto would have never been won. Surprisingly, Williams has been left out of most Texas history books altogether.
According to Admiral Will Fisher IV, 6th-generation Texan and Texas Navy Admiral, "Williams procured the 1835 Texas Navy out of his own pocket; one of those ships captured a Mexican supply vessel loaded with food and gunpowder and another ship prevented a Mexican vessel loaded with fresh troops from leaving a Mexican port. Both events were extremely important to Houston's success at San Jacinto."
"Sam Williams came to the western frontier under a cloud and an assumed name, a man seriously in debt. He became indispensable to Stephen F. Austin, first as his assistant, then later as Austin's partner. In time, although he would risk all in the service of Texas, he would become the most controversial, most hated, and misunderstood character to walk the pages of Texas history", stated Blocker.
In 1835, Williams recruited officers and men for the Texas Navy, purchased warships on his own credit without which Texas could never have won and maintained its Independence. His life was interwoven with some of the great men of the time, Sam Houston, Stephen Austin, José Navarro, Juan Seguín and Antonio López de Santa Anna. After General Santa Anna was defeated, Williams saved him from an angry mob and hid him away, even though Santa Anna had earlier placed a price on Sam's head for seeking to steal Texas away from Mexico.
Forsaken Patriot is the story of a remarkable life, a man who was viewed by many as a scoundrel and by others as a patriot. He built a mercantile empire, created the first bank in Texas, and spearheaded development of the port city of Galveston. After all he accomplished for Texas, it is ironic that no street, school, park, county, building or monument bears his name. Sam Williams passed from memory into the shadows from which he came.
Forsaken Patriot is written by Marshall Riggan and Gordon Blocker.
Marshall Riggan has written documentary projects for National Geographic, The Smithsonian, the History Channel, Arts and Entertainment and PBS. Many of his scripts have been centerpiece media for museum displays, including exhibits for Catherine The Great, Ramses II, and the history of Soviet Space Flight. Two years running, films he wrote were selected for the PBS Eudora Welty Americana Award as the best short American films of the year.
Gordon Blocker's work in 1980, creating a living museum in the 1839 Samuel May Williams Home, sparked his fascination with Williams, his life and times. It was the beginning of a decades-long project of original research that became the heart of Forsaken Patriot. Blocker began his filmmaking career in 1970 at CBS (KHOU-TV) in Houston. He has combined his love of story-telling with a wide range of communication skills.
Forsaken Patriot is now available as a paperback at Amazon.com.
More information on Williams' life can be seen on the Samuel May Williams Facebook Page