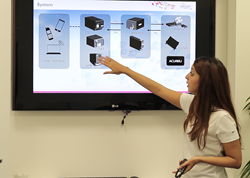 Geneva, Switzerland (PRWEB) May 19, 2015
The Satcom Direct Training Programme, launched at EBACE 2014, currently offers training classes and technology seminars in Farnborough, Geneva, Hong Kong, Johannesburg and Dubai. The programmes in each location are being expanded to include the AeroIT certification which was created by Satcom Direct in cooperation with CompTIA's Examplify subsidiary. The existing courses cover all technical networks in aviation communications and are a suggested prerequisite for the AeroIT training that provides advanced knowledge and certification testing. A study guide is also available for self-guided preparation. The subsequent AeroIT certification proctored exam will be offered at any Pearson VUE testing center, worldwide. The certification is valid for three years and must then be renewed. Attendees will have the opportunity to register for the AeroIT prep course at the event.
"AeroIT expands upon the existing base of knowledge and focuses on the IT aspects of avionics systems. It's a great way for technical team members to add value to their flight department and enhance their own professional development," said Head of Training Sanaa Saadani.
Aircraft technicians need to be IT experts to efficiently serve owners' and operators' communications needs. Satcom Direct has developed AeroIT in response to this demand. It builds on the existing Training Programme, which includes a foundation course focusing on troubleshooting and SATCOM schematics. A course about Inmarsat aviation provides training on legacy and next generation Inmarsat systems, whilst an IP and voice course focuses on introducing maintenance and operational professionals to troubleshooting IP networks, which are vital to today's aircraft.
"Satcom Direct is committed to investing in improving the knowledge base within the aviation industry to increase the effectiveness of corporate Flight Departments," said Jim Jensen, Satcom Direct founder and CEO. "We recognize that the onboard IT systems are developing rapidly, and we want to be sure customers are confident and capable of supporting the technology. Offering this to our international client base is the next step in setting a standard for the industry, worldwide."
All members of the Satcom Direct support staff are required to obtain AeroIT certification along with Cisco Certified Network Associate (CCNA) and CompTIA Network+ credentials.
Satcom Direct: Satcom Direct is the leading provider of satellite voice and broadband data solutions for flight deck and cabin communications serving business, military, government, and heads of state aircraft. The company is a premier Inmarsat Distribution Partner, Iridium Service Partner, and ViaSat Yonder's preferred reseller, supporting more than ninety percent of all corporate flight departments worldwide. Satcom Direct continues to advance its services through mobile applications and value adds – from flight deck datalink to cabin communications – making Satcom Direct the leader in aeronautical satcom service.
Satcom Direct's headquarters and primary operations center is located in Satellite Beach, Florida, with additional office locations in the United States; Canada; Farnborough, UK; Dubai, UAE; Geneva, Switzerland; Hong Kong; Melbourne, Australia; Moscow, Russia and Sao Paulo, Brazil. For more information regarding Satcom Direct, visit http://www.satcomdirect.com, e-mail sales@satcomdirect.com, or call U.S. +1.321.777.3000 or UK +44.1252.554.460.
For more information regarding Satcom Direct, visit http://www.satcomdirect.com. To view Satcom Direct's portable satellite communication equipment and services, including satellite phones and BGAN units, visit http://www.satcomstore.com, e-mail mobileops(AT)satcomdirect.com, or call +1.321.777.0771