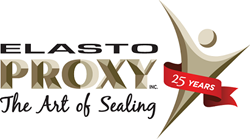 Visit Elasto Proxy at CANSEC in Booth #935.
Boisbriand, Quebec, Canada (PRWEB) May 20, 2015
Elasto Proxy, custom fabricator of engine bay insulation for military vehicles, is announcing resources for defense industry buyers who need to source acoustic and thermal insulation. In a technical article and video, the custom manufacturer describes elastomeric materials that are used for sound absorption and noise reduction, and how custom-fabricated "insulation sandwiches" meet demanding military requirements.
Engine Bay Insulation
Acoustic and thermal insulation isn't as strong as armor plating, but that doesn't mean vehicle designers have to choose materials that aren't ready to deploy. Technical buyers have many different options, and some insulating materials do more than dampen sounds or reflect heat. For example, thermal and acoustic foams can resist fire and water while meeting flame, smoke, and toxicity (FST) requirements.
As Elasto Proxy's new article explains, selecting the right insulation materials may also require compliance with military standards such as MIL-STD-1474E for noise levels. Compound selection is critical, but custom fabrication adds value to the defense supply chain. Elasto Proxy uses water jet cutting to convert materials to size, assembles them in layers, and then delivers ready-to-install engine compartment insulation.
About Elasto Proxy – How Can We Help You?
Elasto Proxy specializes in the design and custom fabrication of specialty seals and gaskets, thermal and acoustic insulation, vibration dampening products and materials, EMI shielding, and other high-quality rubber components and plastic parts for a variety of industries, including military and defense.
For over 25 years, we've supplied low-to-medium volume quantities of high-quality products such as engine bay insulation. If you're headed to CANSEC 2015, visit Elasto Proxy in Booth #935 and contact Clyde Sharpe at csharpe(at)elastoproxy(dot)com to arrange a meeting.
Media Contact:
Clyde Sharpe
General Manager
Elasto Proxy Inc.
4035 Lavoisier Street
Boisbriand, Quebec, Canada J7H 1N1
csharpe(at)elastoproxy(dot)com
Ph: (450) 434-2744