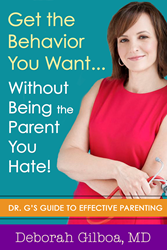 Pittsburgh, Pennsylvania (PRWEB) May 18, 2015
Do you know what your kids will be doing this summer? Recent research indicates that nearly 80 percent of unwanted exposure to pornography is taking place on-line and in the home. Popular parenting and youth development expert and the author of Get The Behavior You Want without Being The Parent You Hate!, Dr. Deborah Gilboa, answers why parents should discuss pornography with their kids sooner than later, especially as they spend more time on their own, with friends and at camp these next few months.
"The best way to start any new topic or tough conversation is to ask a question. Think of it as testing the waters," says Doctor G. She identifies the following 8 questions, as the ones parents are most concerned about for this crucial topic.
Question #1: How, and what age, should parents start a dialogue about porn? Doctor G says, "Ask if your child has heard the word, or knows anything about it. The right age is usually "younger-than-you-think" but should definitely start when the first one of your child's friends gets a tablet or Smartphone that they are allowed to use when alone. 56% of kids aged 8-12 have a Smartphone."
Question #2: If you bring it up are you encouraging it?
"You're not encouraging it unless you're talking about what a great idea it is. When you bring it up you're saying, 'I know about this, this is not a topic that is off-limits to discuss, and I am your go-to expert on what to think about this.'"
Question #3: What is considered "pornographic?"
"Pornography is anything you don't want your child to see of a sexual nature, or anything you'd be ashamed if he or she showed to the child of a friend."
Question #4: What about racy photos on Instagram or Snapchat of people they actually know?
"Whether or not you consider these 'pornographic,' they are still important to discuss. Bring it up with the conversation about what other people have posted online that your child should or should not look at. This is the bridge to discussing what their friends, and of course they, should and shouldn't post," says Doctor G.
Question #5: How do you keep your kids viewing habits in alignment with your own family values?
"This is the real opportunity of having such a tough conversation. You are going to need to know exactly what you believe about pornography, and - most importantly - why! Kids and teens will ask tough questions, and search for hypocrisy; do you have lingerie catalogs or women's and men's magazines around? Do you read romance novels or watch racy movies? How is that different? "
Question #6: Some might say it's natural for teens to explore porn. Is it?
Doctor G believes, "It is natural for teens to explore, period. Knowing your views on this will help them form their own and give them a solid basis for making their own decisions."
Question #7: How do you address this issue without shame?
"Sexual interest is normal, and normalizing it for teens will help them believe that this is really something they can bring to you for discussion instead of hiding in fear."
Question #8: Does porn lead to sexual exploration?
"According to recent research, middle-school aged boys who view X-rated content are almost three times more likely to report oral sex and sexual intercourse than boys who do not use sexually explicit material. Almost as problematic, porn leads boys and girls to have completely unrealistic views of what 'sex' means - what bodies look like, what exploration is, what behaviors and activities are reasonable, likely to occur or SAFE."
Doctor G goes on to say, "There are many layers for parents to consider: access to porn is everywhere, the behaviors your children's friends engaging in, the values you want to teach your children about sex, intimacy and relationships, the objectification of the human body; and social norms. While the topic is not an easy one for parents, it is well worth the discomfort."
About Deborah Gilboa MD
Deborah Gilboa, M.D., aka "Doctor G," is an industry leading parenting and young development expert, family physician, international speaker, author, media personality and mother of four. Doctor G developed the "3 R's of Parenting" to empower parents to raise Respectful, Responsible and Resilient kids. Her newest book, Get the Behavior You Want... Without Being the Parent You Hate! Dr. G's Guide to Effective Parenting (Demos Publishing,) is a candid discussion of 60 key challenges faced by parents today. Doctor G is an award-winning University of Pittsburgh School of Medicine Clinical Associate Professor. She regularly appears on news and daytime programs throughout the U.S. For additional info, visit http://www.askdoctorg.com or connect on Facebook, Twitter, YouTube, and Google+.
###