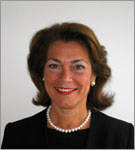 Chicago, IL (PRWEB) May 19, 2015
Linda C. Mack, founder and president of Mack International, the premier retained executive search and family office strategic management/human capital consulting firm, will lead a 'Building a Family Office,' session at the exclusive Institute for Private Investors (IPI)' Spring Forum in New York, May 20-21, 2015.
Many of the most well established family offices and private investors attend for two days of engaging discussions and peer-to-peer exchanges on a variety of issues and challenges unique to management of family or multigenerational wealth.
The closed-door, families-only session will focus on a few core areas. "We will explore different family office models and discuss the importance of selecting one that is in alignment with the family's mission, values and goals," Mack said. "I will also present a best practice approach to building the family office and to recruiting and retaining the key leadership talent needed to successfully accomplish family objectives."
"An increasingly competitive market and improved access to information are requiring family offices to keep pace in the recruiting, reward and retention arena. Effective talent management strategies and practices enable families to better attract, develop and retain the people needed to make a family office thrive," Mack continued. "The session will conclude with a family case study that illustrates how family offices are dynamic rather than static organizations and inevitably transition over time. Therefore, key decisions related to creating a family office need to be revisited in order to ensure alignment with family mission, values and goals is maintained as family circumstances and needs evolve."
The IPI 2015 Spring Forum will include sessions on complex issues including family legacy, investments and risk management, role of private equity in portfolios, Due diligence, tax laws, global markets and hedge funds and the next generation of private wealth holders.
About Mack International LLC
Mack International is the premier, boutique retained executive search and strategic management/human capital consulting firm, serving national and international clients in the family office, family business enterprise and the wealth management industries. Founded in 2002, the firm has achieved an exceptional track record of success as evidenced by consistent referrals, repeat engagements and long tenures of candidates placed. Founder and President Linda C. Mack has also established proprietary methodologies such as the Mack 360© and is credited for having coined the term "expert generalist" in the industry. For more information, visit http://www.mackinternational.com or call 800.976.0015.
About the Institute for Private Investors (IPI)
Since its founding in 1991, the Institute for Private Investors (IPI) has provided a safe harbor for families with substantial wealth to learn from each other and leading experts while fostering lifelong relationships with like-minded peers. Private investors join IPI to become more sophisticated stewards of their wealth and more discriminating purchasers of financial services. Because IPI does not endorse any investment services, strategies or managers, its content is educational, not promotional.
In 2011, IPI was acquired by Campden Media, which serves ultra-affluent business-owning and financial families worldwide. Through its affiliation with Campden Wealth, IPI is the bridge from the U.S. to the private global community of ultra-affluent business-owning and financial families in Asia, Latin America, Europe and the Middle East.