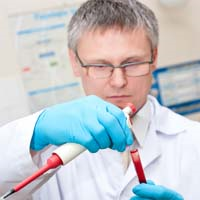 Our study suggests that p16 FISH analysis is useful in differentiating diffuse malignant peritoneal mesothelioma...
Raleigh, NC (PRWEB) May 19, 2015
Separate groups of pathologists in China and Japan have released new research on the potential value of the protein p16 in mesothelioma diagnosis and the best way to test for it. Surviving Mesothelioma has just posted an article on the research. Click here to read it now.
Japanese researchers from multiple hospitals and universities used a test called the FISH assay to determine whether p16 was present in 28 patients with either mesothelioma, epithelial ovarian cancer (EOC), or a benign condition called mesothelial hyperplasia (RMH). They found that most mesothelioma patients were missing the gene.
"Our study suggests that p16 FISH analysis is useful in differentiating diffuse malignant peritoneal mesothelioma from RMH and EOC…," writes author and pathologist Kazuki Nakeshima, MD, of Fukuoka University School of Medicine in the American Journal of Clinical Pathology.
Another study on p16 and mesothelioma published in a Chinese medical journal found that more than 81% of mesothelioma patients tested did not express the p16 protein, while patients with similar conditions did.
"There is a great need for biomarkers to diagnose mesothelioma and help distinguish it from other conditions," says Alex Strauss, Managing Editor of Surviving Mesothelioma. "If p16 could play a role in that, it could have a direct impact on mesothelioma survival."
For more complete details of both studies, see Protein Test Helps Distinguish Mesothelioma from Benign Conditions/Other Cancers now available on the Surviving Mesothelioma website.
Ito, T, "p16/CDKN2A FISH in differentiation of diffuse malignant peritoneal mesothelioma from mesothelial hyperplasia and epithelial ovarian cancer", June 2015, American Journal of Clinical Pathology, pp. 830-838. http://ajcp.ascpjournals.org/content/143/6/830.abstract
Liu, Y, "Detection of p16 by fluorescence in-situ hybridization and immunohistochemistry in malignant mesothelioma", April 15, Chinese Journal of Pathology, pp. 262-265. http://www.ncbi.nlm.nih.gov/pubmed/25975910
For nearly ten years, Surviving Mesothelioma has brought readers the most important and ground-breaking news on the causes, diagnosis and treatment of mesothelioma. All Surviving Mesothelioma news is gathered and reported directly from the peer-reviewed medical literature. Written for patients and their loved ones, Surviving Mesothelioma news helps families make more informed decisions.