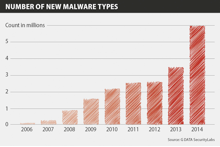 Overall the analysts discovered over 4.1 million new malware strains in the second half of 2014.
Atlanta, GA (PRWEB) May 18, 2015
New high in the defence against banking Trojans: the number of foiled attacks rose by 44.5 percent in 2014. An analysis of the Top 25 targets of banking attacks, carried out by G DATA security experts, has revealed that over 70 percent of the targets were in the USA, Canada and Great Britain. Only 4 percent of the targets were in Germany. Overall the analysts discovered over 4.1 million new malware strains in the second half of 2014. This brings the total for 2014 to almost 6 million new malware strains. The forecast of over 3.5 million malware types was far exceeded. The Malware Report is available immediately on the G DATA website.
"Improved security measures by banks are making it more and more difficult for online bank robbers to get money from bank customers. However, the number of averted attacks by banking Trojans rose by 44.5 percent. Banking Trojans are designed to circumvent conventional detection methods. Only special protection technologies can protect online banking users effectively," explains Ralf Benzmüller, head of G DATA SecurityLabs.
Almost 6 million new malware strains in 2014
The G DATA security experts discovered 4.1 million computer malware strains in the second half of 2014 – almost 2.3 times the number compared to the first half of the year. For the year as a whole, G DATA SecurityLabs recorded nearly six million new malware variants. There were just 3.4 million malware strains in the whole of 2013, 1.9 million of which were found in the second half of the year.
US bank customers continue to be the main target of banking Trojans
Compared to the first half of 2014, the proportion of US banking customers who were in the cyber criminals' cross-hairs fell by 12 percent. Attacks on Russian online banking users increased significantly (plus 12 percent). Also new to the Top 25 were a French bank and a Canadian bank.
Adware continues to grow rapidly
Adware continued to fly high in the second half of 2014, now making up 31.4 percent of all new signature variants. Hence almost one in three new malware detections came from this category.
Forecasts for the first half of 2015
The security experts expect that phishing attacks will turn into staged attacks that also involve malware. Not only would sensitive data then be stolen from phishing victims – attacks using exploit kits might also be carried out.
The G DATA Malware Report is available online: https://public.gdatasoftware.com/Presse/Publikationen/Malware_Reports/GData_PCMWR_H2_2014_EN_v1.pdf
About G DATA
IT security was invented in Germany: G DATA Software AG is the antivirus pioneer. It was more than 28 years ago that the company, founded in Bochum in 1985, developed the first program to combat computer viruses. These days, G DATA is one of the world's leading providers of IT security solutions.
Test results prove that IT security "Made in Germany" offers Internet users the best possible protection. Stiftung Warentest has been testing Internet security products since 2005. In all eight tests performed between 2005 and 2015, G DATA achieved the best virus detection rate. In comparative tests by AV-TEST, G DATA regularly demonstrates the best results in the detection of computer malware. Internationally, G DATA INTERNET SECURITY has also been awarded best Internet security package by independent consumer magazines – in countries such as Australia, Austria, Belgium, France, Italy, the Netherlands, Spain and the USA.
The product range comprises security solutions for end customers as well as medium to large-sized enterprises. G DATA security solutions are available in more than 90 countries worldwide.
For more information about the company and G DATA security solutions, see http://www.gdata-software.com