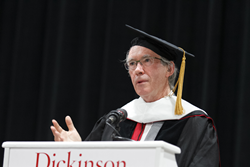 "Free speech - life blood, the essential condition of the liberal education you've just received."
Carlisle, Pa. (PRWEB) May 18, 2015
Award-winning author Ian McEwan received a standing ovation for his Commencement address on May 17 at the liberal-arts college known for its global and sustainability education. In his address, McEwan told graduates that free speech, to include writing, reading, listening and thinking, is the very foundation of the liberal education they had just received and that he hoped the novels they had read while at Dickinson would send them in the direction of "mental freedom." He spoke of the need to defend freedom of expression especially in the wake of recent global events such as the January attacks on the offices of the French satirical newspaper Charlie Hebdo.
"I hope you'll use your fine liberal education to preserve for future generations the beautiful and precious but also awkward, sometimes inconvenient and even offensive culture of freedom of expression we have. Take with you these celebrated words of George Washington: 'If the freedom of speech is taken away then, dumb and silent, we may be led like sheep to the slaughter.' We may be certain that Dickinson has not prepared you to be sheep. Good luck 2015 graduates in whatever you choose to do in life."
McEwan has been shortlisted for the Man Booker Prize for Fiction numerous times, winning the award for Amsterdam in 1998. His novel Atonement received the 2002 WH Smith Literary Award, the 2003 National Book Critics' Circle Fiction Award and Los Angeles Times Prize for Fiction, and the 2004 Santiago Prize for the European Novel. Atonement also became a critically acclaimed movie that earned the 2008 Golden Globe for Best Picture and seven Oscar nominations, including one for Best Picture.
In 2006, McEwan won the James Tait Black Memorial Prize for his novel Saturday, and his novel On Chesil Beach was named Galaxy Book of the Year at the 2008 British Book Awards. He has been named the Reader's Digest Author of the Year for 2008, the 2010 Peggy V. Helmerich Distinguished Author, and in 2011, was awarded the Jerusalem Prize. His most recent novel is The Children Act.
McEwan, who also received a doctor of letters honorary degree, visited Dickinson in 2005 through the Harold and Ethel L. Stellfox Visiting Scholars and Writers Program, which brings major literary figures to campus for an inter-arts residency. McEwan was the first recipient of the Stellfox, which was inspired by a visit from poet Robert Frost. Every Stellfox recipient recreates the original 1959 photo of Frost on the steps of Old West surrounded by students. During his remarks McEwan commented that he still has hanging in his home the photo recreation taken almost a decade ago.
Before McEwan took the lectern, Dickinson, a national leader in sustainability education and sustainable campus operations – presented actor Mark Ruffalo with The Sam Rose '58 and Julie Walters Prize at Dickinson College for Global Environmental Activism The $100,000 prize was created to focus attention on the need to reduce the impact of human lives on the planet, particularly given the rising population predictions for this century. The award recognizes Ruffalo for his work promoting sustainability, as co-founder of Water Defense, an advocacy group that works to create better access to clean water by testing water supplies and documenting contamination.
"I'm really grateful to be here today," Ruffalo said, adding that he will donate the prize to Water Defense, and accepts it on behalf of all of the organization's staff, "and I'm here to tell you today that 'activism' is not a dirty word … I didn't expect to be an activist, I sort of stumbled upon it … but you have to fight for what you love." He added "I am thrilled to be here with you young people today who have so much knowledge, so much ability to communicate on such a grand level and a global level and so I'm asking each of you at some point or another to act up —misbehave, buck the system. Fight for what you believe in. This is the time to do it. You're the ones to do it … don't be afraid of anything."
Ruffalo, one of Hollywood's most respected and sought-after actors, has successfully leveraged his celebrity in defense of America's waterways and freshwater supplies. In 2011, he co-founded Water Defense to raise awareness about the impact of energy extraction on water and public health. In a 2014 interview with HuffPost Live, he said, "Water Defense was started to give people a place to go who are being affected by fossil-fuel extraction. We wanted to create a hub for communities that are disenfranchised and don't have media attention to get their stories out in the world. I'm a focal point. I get the spotlight on me and pass it on to places like Aliceville, Alabama; Casselton, North Dakota; and Mayflower, Arkansas."
In addition to a $100,000 monetary award, Dickinson's Rose-Walters Prize includes a short residency during the academic year. During that residency, Ruffalo will meet with Dickinson's many student environmental-leadership groups and faculty, participate in class discussions and give a public presentation.
"Education is a necessity if we are to understand the problems facing the natural world and its inhabitants," said Rose. "Julie and I wanted to endow the prize at Dickinson because we fully support the curriculum, which promotes student awareness of the environment and training for professional careers in the sciences as well as responsible living for the protection of all life forms."
Previous Rose-Walter prize recipients include, Bill McKibben, author, journalist and founder of 350.org; Lisa Jackson, Apple's vice president of environmental initiatives and former Environmental Protection Agency administrator under President Barack Obama; and James Balog, an award-winning nature photographer and author.
Honorary degree recipients included William Wallace, Dickinson class of 1974, an art-history professor at Washington University in Saint Louis and internationally recognized expert on Michelangelo, was presented with an honorary doctor of fine arts degree, and Ann Conser Curley, Dickinson class of 1963—a journalist and former president of Dickinson's Alumni Council who co-established three chairs at Dickinson, along with husband John Curley, class of 1960—was awarded an honorary doctor of liberal arts degree.
The college awarded a posthumous honorary doctor of philanthropy degree to John "Jack" Stafford, Dickinson class of 1959, who, along with wife Inge Paul Stafford, class of 1958, also made possible many scholarships and additions to the college—most recently, the Dr. Inge P. Stafford Greenhouse for Teaching and Research, dedicated in 2013. Stafford's four daughters accepted the award on his behalf.
Dickinson is a highly selective private liberal-arts college of 2,400 students and a national leader and innovator in sustainability education. Students are challenged through classroom studies, living laboratories, service learning, student-faculty research and study abroad to build the knowledge and skills that are needed to create a sustainable world. Opportunities for hands-on learning include working with community groups to protect local watersheds and air quality, learning about solar energy and growing food on the college's USDA organic-certified farm and producing biodiesel from waste vegetable oil. Sustainable practices and values are underscored by a commitment to climate neutrality, green building practices, socially responsible investment and diverse community engagement.
Dickinson's achievements and leadership have earned the highest recognitions from the Association for the Advancement of Sustainability in Higher Education, Sierra Magazine, the Sustainable Endowments Institute, The Princeton Review and Second Nature.