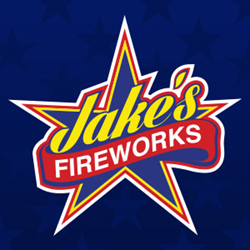 This really is a great time to be an entrepreneur or fundraising group in the states of Georgia or New York, lots of opportunities. Mick Marietta, CSO Jake's Fireworks
PORTAGE and HOLLAND, Mich (PRWEB) May 21, 2015
May 21, 2015—Jake's Fireworks, the country's biggest fireworks wholesaler and retailer, will host a Memorial Day weekend sales event to benefit the families of American veterans, including 225 Michigan servicemen and women who gave their lives serving their country.
Beginning Friday and running through Monday May 22, Jake's Fireworks is offering the World Class Fireworks'"Folds of Honor" firework cake on sale for $25. For each sale, Jake's will donate $10 to the Folds of Honor Foundation to benefit the children and spouses of killed or injured veterans. Residents in the Portage and Holland communities are invited to stop by their local Jake's Fireworks store to enjoy video demonstrations of the Folds of Honor Firework, a 16 shot, 500 gram cake in that produces a spectacular red, white and blue display.
Since the consumer-grade firework cake can be legally purchased and safely used by the public for personal celebrations, the opportunity to help the families of veterans and satisfy everyone's love of fireworks at the same time should provide a welcome holiday diversion for many. In addition, store customers can submit their entries to win a Char-Broil 4-burner, stainless steel gas grill. One winner per store will be announced Monday, May 25 at 5 p.m.
According to the Folds of Honor Foundation, more than one million children and surviving spouses of veterans have been adversely affected by the wars in Iraq and Afghanistan. Of these, 85 percent do not qualify for federal scholarship assistance. FoldsofHonor.org provides educational scholarships and other forms of assistance to the dependents of military servicemen and women killed or disabled while serving their country.
Since 2013, World Class Fireworks—known as Jake's Fireworks, with more than 250 stores throughout Arkansas, Indiana, Kansas, Oklahoma, Michigan and Missouri—has been raising funds for the families of veterans through sales of Folds of Honor firework products.
To learn more about Jake's Fireworks Memorial Day events, and for location information at Jake's, visit the Jake's Portage website or the Jake's Holland website.
Individuals interested in contributing to the Folds of Honor, and those applying for scholarships can visit FoldsofHonor.org for more information.
About Jake's:
Since Michigan laws governing the sale of fireworks were relaxed in 2012, Jake's Fireworks has emerged as the largest provider of consumer-grade fireworks in the state. In addition to the Kentwood and Auburn Hills stores, Jake's Fireworks has distribution centers serving nine U.S. states, and 250 retail locations for the general public to buy consumer-grade fireworks. Jake's offers a huge assortment of fireworks to wholesalers buying for major events, re-sale retailers, and everyday consumers looking to create their own special fireworks display for a local event or family occasion.
For more than 60 years, Jake's Fireworks Pittsburg, Kansas headquarters has been a fixture in the community, providing services that include standard distribution of world class fireworks, private label and bulk container orders. Jake's Fireworks is known in the industry as an innovator in consumer fireworks product development, and an enthusiastic supporter of fundraising opportunities, operating its retail fireworks locations for individuals and organizations during peak retail fireworks seasons.
###