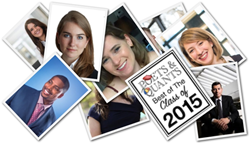 "These talented young professionals upend the stereotypes that MBAs are detached quants and sharp-elbowed climbers."
San Francisco, CA (PRWEB) June 03, 2015
Poets&Quants, the must-read website that covers the global business school scene, has named the top 50 graduating MBAs of 2015.
The best of the Class of 2015 is a rich and widely diverse group of talented young professionals who upend the stereotypes that MBAs are detached quants and sharp-elbowed climbers. They are former marines, athletes, actors, and lawyers. They have managed charities just as often as they've worked on Wall Street – and some have done both. And perhaps the biggest surprise of all is that women form a solid majority of the 50 graduates on the list, 27 women to the 23 men, at a time when males typically outnumber females two to one on business school campuses.
While some graduates are leaving to join popular destinations like McKinsey, Goldman Sachs, and Amazon, others are launching their own firms or heading overseas to fight disease and poverty. You'll find these 50 MBAs hailing from locations as disparate as New Hampshire and the United Arab Emirates, with 15 students on the list born outside the United States. Although traditional powers like Harvard and Stanford are represented, you'll find plenty of MBAs on the list who are graduating from public universities including Texas A&M, Purdue, Maryland, and Minnesota.
To compile this list, Poets&Quants surveyed 60 of the top-ranked full-time global MBA programs to find those 2015 graduates who "exemplify the best of your school" as evidenced by academic prowess, leadership in extracurricular activities, personal excellence, and striking personal narratives. Selected by administrators, faculty and fellow classmates, more than 100 forthcoming graduates were nominated. Each nominee was asked to complete an extensive questionnaire. We asked MBA students when they knew they wanted to go to business school and what they would be doing if they hadn't gotten an MBA. We asked who would they most want to thank for their success and what they most enjoyed about their MBA experience (you can read their answers in the profiles).
The staff of Poets&Quants then carefully evaluated the submissions for academic achievement, leadership in extracurricular involvement, immediate impact, and engaging personal narratives to come up with the best of the bunch. The resulting profiles of each of the 50 most exceptional MBAs in the Class of 2015 are filled with a wealth of valuable information and intelligent insight for prospective students, current MBA candidates, and anyone interested in graduate business education.
When it comes to careers, people often picture paths that are plotted straight up and logical. In reality, careers zig-and-zag, with false starts and digressions. And that's true too of Top 50 MBAs, who often spend their twenties seeking their mission or sharpening skills that come in handy at business school later.
Consider University of Southern California's Jenny Dare Paulin. She started out as an actor, nabbing bit parts in shows like Dawson's Creek before enjoying a stint on Broadway. Eventually, she found herself working 16-hour days in a gourmet burger joint she had opened in Nicaragua. After returning to school, where she was dubbed a "Renaissance Woman" by her peers, this artist-turned-consultant eventually led 12 MBA students on a 10-month international consulting project. Here, the team's research helped one Malaysian leader secure an additional $30 million for educational funding. Heading to Ernst & Young after graduation, Dare Paulin has advice relevant to any poet fearing statistical models and finance. "Hard skills are important and useful, but perishable. The most important skills you can acquire in business school are the abilities to adapt, interpret and learn."
Of course, poet types aren't the only students making an impact at business school. MIT's Elena Martinez, who holds a Ph.D. in Theoretical Physics, helped to develop "Breaking the Mold," a series of events designed to spark conversations about unconscious bias and arm students with tools to overcome it. UCLA's Jacob Call has channeled his unforgiving Navy SEAL training to excel in both the classroom and his extracurricular activities, eventually landing a coveted position in investment banking. And Michael Martin, a Carleton College graduate from Rockport, Indiana, has emerged as one of Harvard Business School's most decorated entrepreneurs. His RapidSOS solution, a wireless app that communicates location information to emergency response teams, recently earned first place at the Harvard Business School New Venture Competition and could potentially revolutionize 911 calls.
Business school is a time of transition, trial, and transformation. It's a whirlwind of projects, trips, events, cases, and interviews that goes by before you know it. Once you look back on it, one thing is clear. You won't believe just how much you accomplished in such a short time.
Congratulations, Class of 2015! You've earned it.