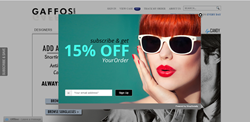 ShopSocially is helping us to rapidly add quality email subscribers program and drive high results for our email marketing program. We are happy to see a high sales conversion rate for these email subscribers. - Jonathan Muller, CEO at Gaffos.com
Mountain View, CA (PRWEB) May 18, 2015
Leading seller of branded eye-wear, Gaffos.com is using ShopSocially's online marketing platform to convert website visitors into qualified email subscribers. Gaffos.com has embedded ShopSocially's onsite email acquisition app Get-an-Email on its e-commerce website to drive subscription for its email marketing program. Email subscribers acquired through this program are of high quality and are converting at a rate of 13.52% on Gaffos.com website.
"At Gaffos.com, we combine a keen eye on style with a rewarding and flawless purchasing experience. We continuously strive to ensure that looking great should be easy, fun and affordable for our customers. By keeping customers always updated with our latest range of stylish products and attractive offers, our email marketing program plays an important part in driving sales." commented Jonathan Muller, CEO at Gaffos.com. "ShopSocially is helping us to rapidly add quality email subscribers program and drive high results for our email marketing program. We are happy to see a high sales conversion rate for these email subscribers."
Customers choose Gaffos.com for the ease with which they can buy authentic branded eye-wear products. Being brand loyalist, customers are willing to receive email updates on latest offerings from their favorite brand. Gaffos.com realized this and hence decided to use ShopSocially's Get-an-Email app to encourage website visitors to sign-up for email updates program. Using the Get-an-Email app, Gaffos.com offered an immediate incentive to website visitors for becoming members of email subscription program. Incentive was delivered inline and user never had to leave Gaffos.com website. This made the entire process of signing up for email subscription program very easy and ensured that customers on Gaffos.com always had an easy and unrivalled buying experience. This resulted in rapid addition of high quality email subscribers, who are converting to sales at a high rate of 13.52% on Gaffos.com.
ShopSocially's Get-an-Email app has a completely customizable user-interface and a dead-simple technical integration process. Retailers can change the entire app-interface to make it blend seamlessly with the default user-experience on the e-commerce website. Technical integration is a simple one-time process of adding few lines of code and can be completed in matter of minutes. Once integrated, configuring new email campaigns does not require any technical effort. Retailers can configure different email acquisition campaigns for different set of users using advanced targeting parameters like website session history, geo-location, access devices, etc. Campaign performance can be tracked through a robust reporting dashboard view, which comes bundled with the ShopSocially platform. This enables retailers to very easily design attractive, sophisticated and high-performance email acquisition campaigns for their e-commerce website. These features helps Get-an-Email app to win over the traditional email acquisition modules available in market.
"Regular updates through an email marketing program are one of the most effective method to ensure brand recall and repeat purchases. The Get-an-Email app is highly effective because it enables instant gratification with a seamless user interface across various access devices." said Samir Palnitkar, President at ShopSocially, "A high sales conversion rate for email subscribers on Gaffos.com reiterates the success of the Get-an-Email app. We are happy to see Gaffos.com benefit from our email acquisition app."
About Gaffos.com
Gaffos.com is a leading online seller of luxury eye-wear brands like Ray-Ban, Tom Ford and many others. Gaffos.com believes in making looking great for customers an easy, fun and affordable experience. Gaffos.com is well-known for the unrivalled buying experience that makes browsing through a wide range of stylish products an uncomplicated and rewarding exercise. Gaffos staff is tasked with 100% fulfillment on every order. Every product listed on Gaffos.com website is authentic and is available in their inventory. Being born out of one of the leading eye-wear distributors in the United States, Gaffos.com comes with an experience of 30 years in combining stylish product range with a flawless purchasing experience.
About ShopSocially
ShopSocially is a premium, social, referral and loyalty platform for marketers. Leading brands like Crabtree & Evelyn, Zazzle, Zipcar, ULTA, Beretta, Dressbarn etc. are using the ShopSocially platform to enable referral marketing, visual commerce, customer loyalty, social login, social gamification and other such programs on their site.
ShopSocially has been consistently driving word-of-mouth promotions via social for 1000s of brands and delivering positive social ROI for their social media efforts. ShopSocially has won several awards and has also been featured by Facebook in a Social Commerce case study. Launched in Oct 2010, ShopSocially is a privately held company in Mountain View, CA. For contact information, please visit http://shopsocially.com/platform/request-a-demo.html.